Centre for the Study of Democracy
News
New book on Negotiating Climate Change
12 September 2013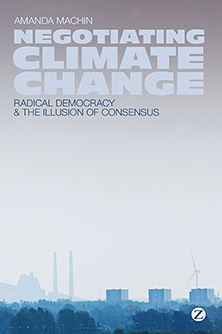 Climate change is the greatest challenge of the age, and yet fierce disagreement still exists over the best way to tackle the problem or, indeed, whether it should be tackled at all. In this original book, Amanda Machin draws on radical democratic theory to show that such disagreement does not have to hinder collective action; rather, democratic differences are necessary if we are to have any hope of acting against climate change.
The book has already garnered positive reviews and is an important read for researchers, students, policy makers and anyone concerned about the current (lack of) politics of climate change. For more details visit http://www.zedbooks.co.uk/paperback/negotiating-climate-change.
---
About the University of Westminster:
The University of Westminster boasts a vibrant learning environment attracting more than 20,000 students from over 150 nations and we continue to invest in our future with new developments, research projects and new ideas.
We offer highly attractive practice-based courses that are independently rated as excellent, many with international recognition. Our distinguished 180-year history has meant we lead the way in many areas of research, particularly politics, media, art and design, architecture and biomedical sciences, and our position in the city of London allows us to continue to build on our close connections with leading figures and organisations in these areas as well as in the worlds of business, information technology, politics and law.
Our commitment to educating graduates for the needs of professional life attracts high quality students from within the UK and around the globe.
Internationalisation, employability and sustainability are key elements in the University of Westminster's vision for the future and we strive to ensure the very highest standards are met and maintained.
Here we hope you find everything you will need to research, write and publish your story or blog post.