Centre for the Study of Democracy
News
Agonistics, a new work by CSD Professor Chantal Mouffe
30 September 2013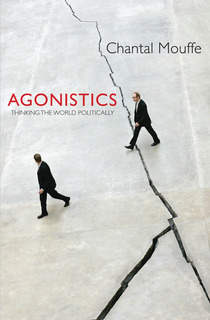 Building on her earlier studies, Mouffe recognises that political conflict in our society is inevitable, and the results are often far from negative. How then should we deal with the intractable differences arising from complex modern culture?
Developing her groundbreaking political philosophy of agnostics — the search for a radical and plural democracy — Mouffe examines international relations, strategies for radical politics, the future of Europe and the politics of artistic practices. She shows that in many circumstances where no alternatives seem possible, agonistics offers a new road map for change. Engaging with cosmopolitanism, post-operaism, and theories of multiple modernities she argues in favor of a multipolar world with a real cultural and political pluralism.
More details of Agonistics and other books by Mouffe can be found on the Verso website.
---
About the University of Westminster:
The University of Westminster boasts a vibrant learning environment attracting more than 20,000 students from over 150 nations and we continue to invest in our future with new developments, research projects and new ideas.
We offer highly attractive practice-based courses that are independently rated as excellent, many with international recognition. Our distinguished 180-year history has meant we lead the way in many areas of research, particularly politics, media, art and design, architecture and biomedical sciences, and our position in the city of London allows us to continue to build on our close connections with leading figures and organisations in these areas as well as in the worlds of business, information technology, politics and law.
Our commitment to educating graduates for the needs of professional life attracts high quality students from within the UK and around the globe.
Internationalisation, employability and sustainability are key elements in the University of Westminster's vision for the future and we strive to ensure the very highest standards are met and maintained.
Here we hope you find everything you will need to research, write and publish your story or blog post.