Westminster student band Arctic Lake added to BBC Radio 1 playlist
Music
23 April 2015
Band members Andy Richmond (drummer), Emma Foster (vocalist) and Paul Holliman (guitarist) expressed their gratitude at being selected for the highly sought after weekly spot on the Radio 1 playlist:
"We're incredibly grateful to Radio 1 for including us on their playlist. It's an incredibly surreal feeling hearing our track 'Limits' alongside some of the most important people in the music industry right now. We're looking forward to bringing out our next track 'Only Me' in this upcoming week, and hope our listeners love it as much as they loved the debut."
Arctic Lake's track 'Limits' will receive plays from Radio 1 presenters Fearne Cotton, Greg James and Scott Mills. The band are the latest BBC Introducing act to be selected for the playlist.
The Lancaster-formed, London-based trio have a distinctive musical style and have previously shared their music with BBC Introducing in Lancashire.
Glenn Skinner, a lecturer on Westminster's Commercial Music Performance course, also expressed his support for the band, saying:
"Arctic Lake are writing delicate, soulful sounding atmospheric tunes that should go down very well on the radio. Emma's distinctive vocals set inside Paul and Andy's stark soundscapes are very recognisable. I would add that Arctic Lakes's live set is a 'must not miss' as well."
Arctic Lake will be performing at the Commercial Music Performance graduate show Area 52 on Thursday 14 May at Garage, 20-22 Highbury Corner, Highbury, London, N5 1RD.
Listen to Arctic Lake's track 'Limits'.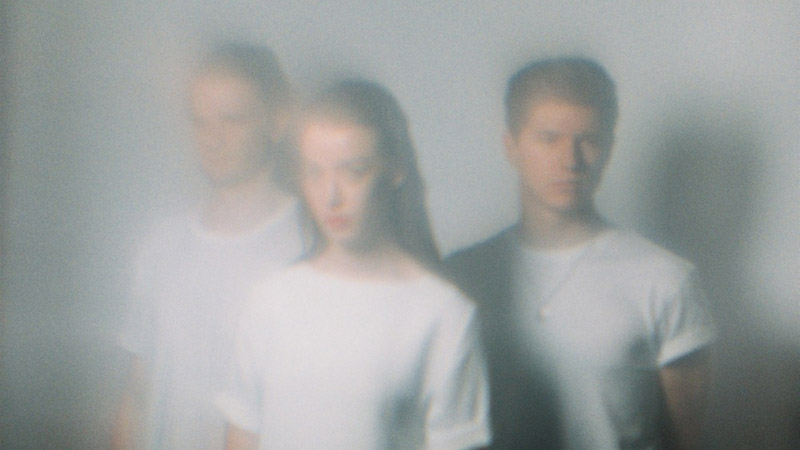 Arctic Lake's press photo for their upcoming track, 'Only Me' 
The University of Westminster's Commercial Music Performance BMus Honours is designed for those entering the music industry as performers, songwriters, composers, musicologists and educators. It supports the development of instrumental and group performance skills with composition, underpinned by a programme of contextual studies combining musicology, music business and music education.
---
About the University of Westminster:
The University of Westminster boasts a vibrant learning environment attracting more than 20,000 students from over 150 nations and we continue to invest in our future with new developments, research projects and new ideas.
We offer highly attractive practice-based courses that are independently rated as excellent, many with international recognition. Our distinguished 180-year history has meant we lead the way in many areas of research, particularly politics, media, art and design, architecture and biomedical sciences, and our position in the city of London allows us to continue to build on our close connections with leading figures and organisations in these areas as well as in the worlds of business, information technology, politics and law.
Our commitment to educating graduates for the needs of professional life attracts high quality students from within the UK and around the globe.
Internationalisation, employability and sustainability are key elements in the University of Westminster's vision for the future and we strive to ensure the very highest standards are met and maintained.
Here we hope you find everything you will need to research, write and publish your story or blog post.