Westminster researchers showcase work on food, nutrition and public health at Universal Exposition 2015
Biosciences
2 November 2015
With contributions from 145 countries, the 2015 Expo ran from 1 May to 31 October with the theme of 'Feeding the Planet, Energy for Life', and welcomed an estimated twenty million visitors over the course of the event.
Representing the University, Dr Stuart Thompson, Senior Lecturer in Plant Biochemistry from the Faculty of Science and Technology, talked about research on food security and quality including understanding drought resistance in food crops, and exhibited materials about Dr Miriam Dwek and Claire Robertson's Breast Cancer Cookbook and the Westminster Water Science Research Group.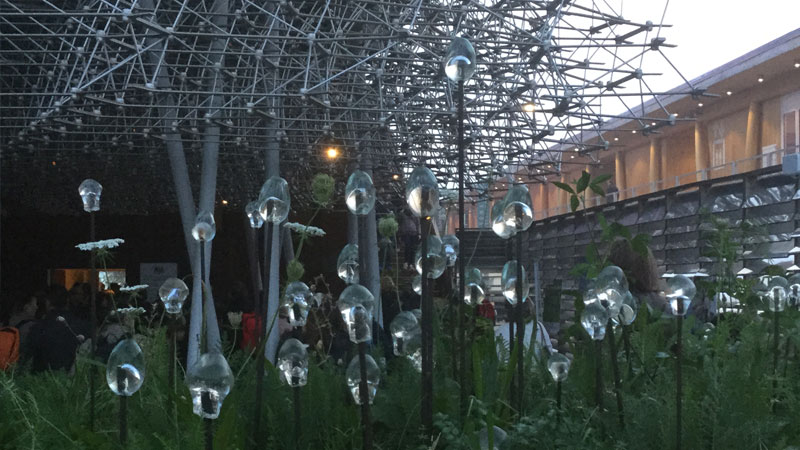 The University of Westminster was invited to place displays in the courtyard beneath the hive of the UK pavilion that attracted around ten thousand visitors a day. The metal framework of the structure was based on a hive with the lights controlled by a model of bee communication inside, as the hive mimicked the contribution of bees to food production. It received the International Jury Prize for design and relevance from the Italian Association of Architects.
Dr Stuart Thompson said: "I have just got back from talking about research at Westminster at the prize winning UK Pavilion at Expo 2015 in Milan. There was lots of interest in the work we have been doing on food quality and food security at Westminster, the Breast Cancer Cookbook that Dr Miriam Dwek and Claire Robertson have contributed to with several requests for an Italian translation, and Dr Ihab Tewfik's programmes to ensure that people with cancer and HIV in the developing world receive the right balance of nutrients to deal with their illness."
---
About the University of Westminster:
The University of Westminster boasts a vibrant learning environment attracting more than 20,000 students from over 150 nations and we continue to invest in our future with new developments, research projects and new ideas.
We offer highly attractive practice-based courses that are independently rated as excellent, many with international recognition. Our distinguished 180-year history has meant we lead the way in many areas of research, particularly politics, media, art and design, architecture and biomedical sciences, and our position in the city of London allows us to continue to build on our close connections with leading figures and organisations in these areas as well as in the worlds of business, information technology, politics and law.
Our commitment to educating graduates for the needs of professional life attracts high quality students from within the UK and around the globe.
Internationalisation, employability and sustainability are key elements in the University of Westminster's vision for the future and we strive to ensure the very highest standards are met and maintained.
Here we hope you find everything you will need to research, write and publish your story or blog post.