Westminster Law School hosts Debate Mate competition
23 April 2015
On Saturday 19 April, more than 50 young people visited the University of Westminster's Marylebone Campus in central London to participate in an open debating session for the Attorney General Cup. The event, sponsored by the Westminster Law School, encouraged young people aged 14–18 years old to debate topics connected to law.
As an educational charity, Debate Mate is dedicated to improving social mobility using cost-effective peer-to-peer debate mentoring. The aim is to give young people from disadvantaged backgrounds the skills that they need to become exceptional young leaders and provide them with access to powerful role models to raise their aspirations.
The participating school students debated three motions working in teams, with two teams for and two teams against the topic of debate. Within self-named teams such as African Sunrise, Interstellar, Khloe Kardashian, Ed Balls MP and the Raiders of the Death Star, the motions debated included:
This house would ban people being able to anonymously post, comment and upload to the Internet.
This house would require individuals to pass a current affairs test to vote.
This house would aggressively stream students aged 14 into academic and vocational courses.
The judges deliberated on the winners after each session and at the end of the day announced the four winning teams who battled it out in the Attorney General Cup final in City Hall this Thursday on 23 April 2015.
Liz Duff, Head of Westminster Law School, said: "Debating is an excellent opportunity for students to develop a wide range of important personal transferable skills leading to improved self-confidence. Students who debate regularly develop the ability to order their thoughts, think quickly and creatively by tackling issues from a variety of perspectives. Debating ensures that participants not only improve their knowledge of an area but develop an appreciation of views they might not agree with. It encourages students to discuss controversial issues in way which is logical, disciplined and evidenced based - essential in all walks of life."
Alex Borwick, Programme Director at Debate Mate, said: "The schools that we are going to often do not have a lot of access to universities. By getting students come to the University of Westminster, we expose them to a university environment at a place that is so wonderful as this is at a great location. This way they can better envision themselves here and they can possibly raise their aspirations to attend university. So we are very grateful to the University of Westminster for having us and allowing us to expose our children to this kind of environment."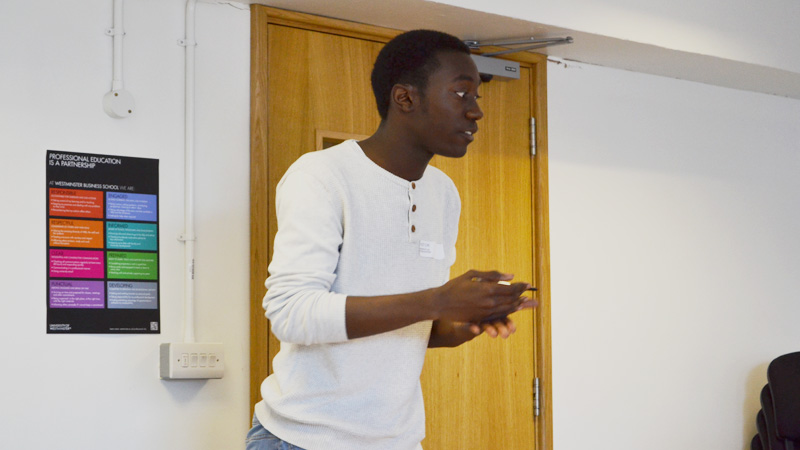 ---
About the University of Westminster:
The University of Westminster boasts a vibrant learning environment attracting more than 20,000 students from over 150 nations and we continue to invest in our future with new developments, research projects and new ideas.
We offer highly attractive practice-based courses that are independently rated as excellent, many with international recognition. Our distinguished 180-year history has meant we lead the way in many areas of research, particularly politics, media, art and design, architecture and biomedical sciences, and our position in the city of London allows us to continue to build on our close connections with leading figures and organisations in these areas as well as in the worlds of business, information technology, politics and law.
Our commitment to educating graduates for the needs of professional life attracts high quality students from within the UK and around the globe.
Internationalisation, employability and sustainability are key elements in the University of Westminster's vision for the future and we strive to ensure the very highest standards are met and maintained.
Here we hope you find everything you will need to research, write and publish your story or blog post.