Westminster celebrates five-year partnership anniversary with Kaplan
23 July 2015
Based in London Bridge, KICL delivers specialised international foundation and pre-Masters programmes that prepare students for degrees at the University of Westminster. Over the past five years the partnership has grown from strength to strength, with hundreds of students progressing to a range of undergraduate and postgraduate programmes at Westminster.
At this month's Graduation Ceremonies at the Royal Festival Hall on London's Southbank, graduates who had progressed to the University from Kaplan shared what they enjoyed most about their academic journey so far and their exciting plans for the future.
Ali Steitieh has just graduated from Westminster's Business Management - Human Resource Management BA Honours programme. "I chose Westminster because of its popularity as well as its central London location. I also liked how the teachers are greatly supportive and will help you without hesitation." Ali told us, adding: "My favourite lecturer at the Westminster Business School without a doubt is Nuala OSullivan, she has been very inspiring."
Ali lived in Qatar before moving to London, where he studied at KICL and then successfully progressed to Westminster. He emphasised how much he had enjoyed living in such cosmopolitan and vibrant city, and the experience of all the close friendships he has forged as an undergraduate student during his three years in London. Ali is now planning to continue his studies with a postgraduate programme at Westminster: "I will be enrolling on the Human Resource Management MA programme this September. I am very passionate about human resources and that is the field I would like to build my career in."
Another successful graduate, Fahad Alswailim, has just finished the International Marketing BA Honours course at Westminster and plans to spend the rest of the summer celebrating his achievement with his family and friends. He told us he really enjoyed his studies both at Kaplan International College London and at the University of Westminster and would cherish the friends he has made for life.
The University of Westminster has a number of successful educational partnerships worldwide.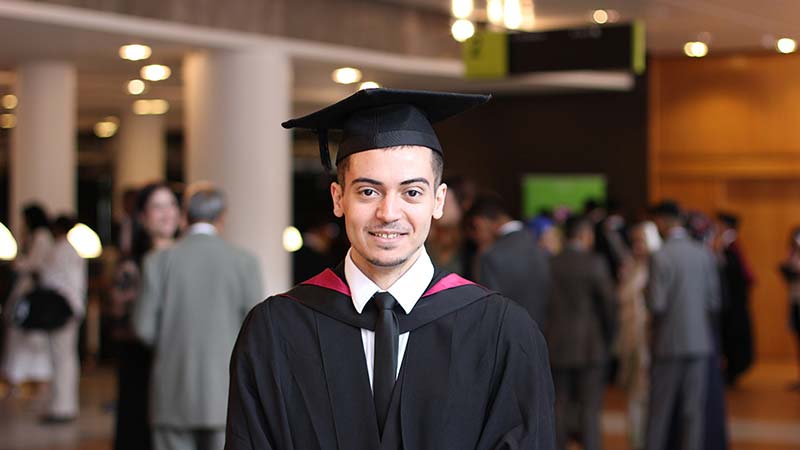 Ali plans to continue his studies at the University of Westminster on Human Resource Management MA programme.
---
About the University of Westminster:
The University of Westminster boasts a vibrant learning environment attracting more than 20,000 students from over 150 nations and we continue to invest in our future with new developments, research projects and new ideas.
We offer highly attractive practice-based courses that are independently rated as excellent, many with international recognition. Our distinguished 180-year history has meant we lead the way in many areas of research, particularly politics, media, art and design, architecture and biomedical sciences, and our position in the city of London allows us to continue to build on our close connections with leading figures and organisations in these areas as well as in the worlds of business, information technology, politics and law.
Our commitment to educating graduates for the needs of professional life attracts high quality students from within the UK and around the globe.
Internationalisation, employability and sustainability are key elements in the University of Westminster's vision for the future and we strive to ensure the very highest standards are met and maintained.
Here we hope you find everything you will need to research, write and publish your story or blog post.