Westminster Architecture students win LSE design competition
Architecture and Interiors
23 June 2015
The aim of the Designing the Urban Commons competition was to re-imagine previously used urban spaces in neighbourhoods across London as new common spaces that can be owned and managed by the local community: "commoning".
Westminster Architecture students Ben Brakspear, Luc Sanciaume and Laylac Shahed won £300 for their winning design, Saturday Commoning Fever. This is an online platform that enables residents of London to learn the rules of the street through play and imagination, and to engage with the city through forms of commoning.
Laylac Shahed said: "By simplifying 'street rules' in a website rather than hiding in regulation files, we aim to question those rules and challenge them. The website creates a network for citizens to discover in a playful manner the rules that apply to the streets of London and to get advantage of the commoning rules by using them, or through means of subversion."
Eight winning proposals were chosen by a specially selected jury and a further two proposals were chosen by an online public vote – Saturday Commoning Fever was picked as a winning design by the jury. Members of the jury included Centennial Professor of Sociology at LSE and Professor of Sociology at New York University, Richard Sennett, and Sarah Wigglesworth, architect and Professor of Architecture at the University of Sheffield.
All winning proposals are currently being exhibited at LSE as part of London Festival of Architecture. Competition winners will also be given the opportunity to present their proposals to the public at a workshop in the V&A on Friday 26 June.
The prize money will be used by the group to support the next stage of the project and turn their idea into a reality.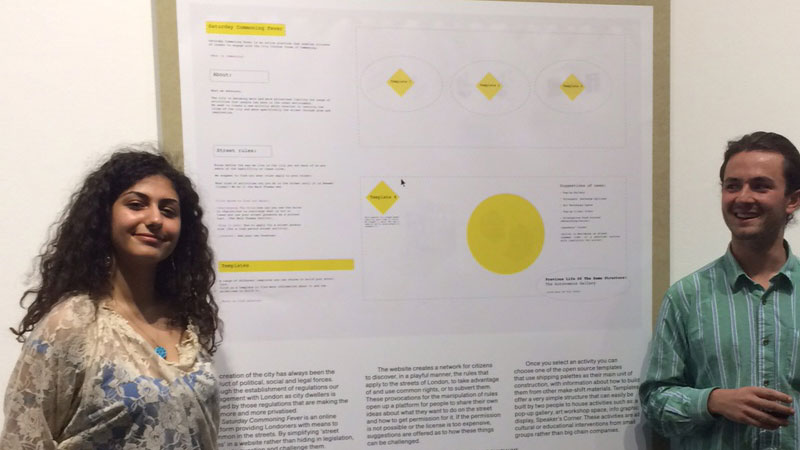 ---
About the University of Westminster:
The University of Westminster boasts a vibrant learning environment attracting more than 20,000 students from over 150 nations and we continue to invest in our future with new developments, research projects and new ideas.
We offer highly attractive practice-based courses that are independently rated as excellent, many with international recognition. Our distinguished 180-year history has meant we lead the way in many areas of research, particularly politics, media, art and design, architecture and biomedical sciences, and our position in the city of London allows us to continue to build on our close connections with leading figures and organisations in these areas as well as in the worlds of business, information technology, politics and law.
Our commitment to educating graduates for the needs of professional life attracts high quality students from within the UK and around the globe.
Internationalisation, employability and sustainability are key elements in the University of Westminster's vision for the future and we strive to ensure the very highest standards are met and maintained.
Here we hope you find everything you will need to research, write and publish your story or blog post.