Westminster alumni Pink Floyd unveil heritage plaque at Regent Campus
28 May 2015
While studying architecture between 1962 and 1965, Roger Waters, Nick Mason and Richard Wright met and formed the band. Originally called Sigma 6, they first performed in the common room and at student parties.
In a recent interview Roger Waters said he felt "enormously privileged" to have a plaque erected on Regent Street in their honour. While at the University, the band began to evolve and to achieve international acclaim. They grew to become one of the most successful British rock bands of all time, with 260 million albums sold to date.
Re-living his student days, Nick Mason said: "Studying at the Regent Street Polytechnic introduced me to some of the key people and biggest collaborators in my career, many of whom I have been lucky enough to work with over the last 50 years. Three of the founding members of Pink Floyd met there so in essence we were formed under the roof of the Polytechnic. We rehearsed in the common room in the basement and played some of our first performances there. Not only did studying architecture give us an invaluable introduction to art and technology, but it also gave us an opportunity to develop, through what would now be called a 'government funded initiative' but was then called a 'student grant'. We are of course honoured to be recognised in this way and I have to add astonished; it was unclear in 1965 that a life time in music beckoned."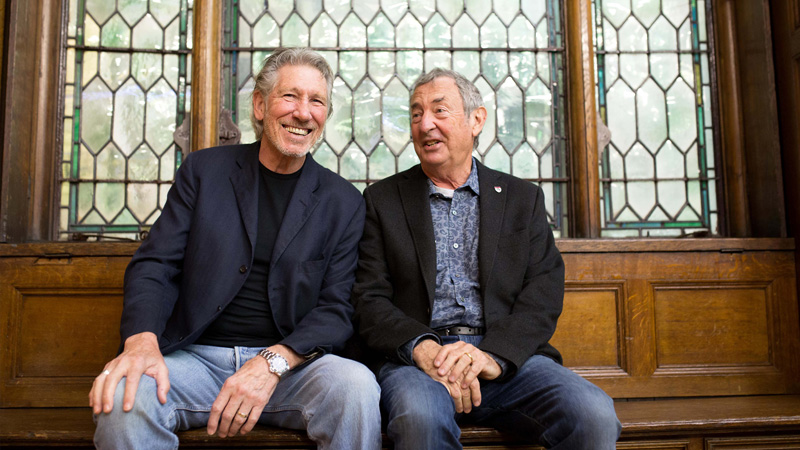 Geoff Petts, Vice-Chancellor of the University of Westminster, said: "The University of Westminster is always proud to pay tribute to the achievements of our alumni. We are delighted to be associated with the global success of Pink Floyd and celebrate that today with the unveiling of this plaque on Regent Street, made possible by the generosity and vision of The Crown Estate. The creative industries, music and film, have a central place in our diverse portfolio of formal and informal activities and are a vital part of the London economy, which we are proud to be celebrating today."
Alan Fisher, Head of Music and former Interim Dean of School of Media, Arts and Design at the University, said: "Pink Floyd has been at the forefront of the music industry for fifty years, a band which is internationally renowned for innovation, both musically and in terms of stage design and production, aspects of which were undoubtedly influenced by the band members' architectural education at the University. "
---
About the University of Westminster:
The University of Westminster boasts a vibrant learning environment attracting more than 20,000 students from over 150 nations and we continue to invest in our future with new developments, research projects and new ideas.
We offer highly attractive practice-based courses that are independently rated as excellent, many with international recognition. Our distinguished 180-year history has meant we lead the way in many areas of research, particularly politics, media, art and design, architecture and biomedical sciences, and our position in the city of London allows us to continue to build on our close connections with leading figures and organisations in these areas as well as in the worlds of business, information technology, politics and law.
Our commitment to educating graduates for the needs of professional life attracts high quality students from within the UK and around the globe.
Internationalisation, employability and sustainability are key elements in the University of Westminster's vision for the future and we strive to ensure the very highest standards are met and maintained.
Here we hope you find everything you will need to research, write and publish your story or blog post.