Westminster alumna to break world record rowing the Pacific Ocean with backing of Kylie Minogue
27 May 2015
Aiming to raise £250,000 for charity, the team hopes to break three world records: the first all-female team to row the Pacific Ocean, the first four-person team to row the Pacific Ocean, and the fastest Pacific Ocean row.
The crew's three-stage row commences from San Francisco, California, and finishes in Cairns, Australia, with stops made in Hawaii and Samoa. English Literature BA Honours graduate Meg will join The Coxless Crew in the last leg of the journey from Samoa to Cairns. The route has so far never been done as a three-stage row.
"I'm so excited, and training is ridiculously hard. I've also got to put on 10kg in weight, as we will be losing so much weight and muscle mass on board the boat. We're only allowed to do one hour of cardio a week, and the rest is weightlifting, which is four-and-a-half-hour sessions a week," said Meg.
The Coxless Crew will be raising money for the charities Walking With the Wounded and Breast Cancer Care.
Talking about why she has chosen to take part in something so challenging, Meg said: "There are many reasons for doing the row. Firstly I'm absolutely honoured to be given this opportunity and I truly believe in the charities that we are raising funds for. Empowering women is another reason, and something that I feel passionate about. However, I wouldn't be telling the truth if I didn't say I'm also doing the row because it massively excites me to adventure into the unknown! Discovering and challenging myself and my limits and being a part of a team that achieves something so amazing and breaking records that haven't been broken before."
In the past Meg has trekked the Inca Trail in Machu Picchu, Peru, and completed a Mount Kilimanjaro Climb for the charity Dig Deep Africa as part of the University of Westminster's International Development Society.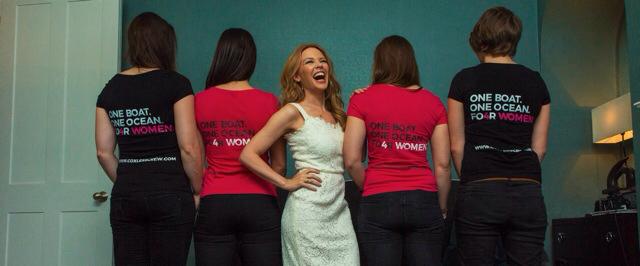 The patron of The Coxless Crew, world-renowned singer Kylie Minogue, commented: "I am delighted to have become a patron for The Coxless Crew and to be supporting their incredible expedition that is raising awareness for the women who benefit from the charities they are rowing for. From my own personal experience of having fought and overcome breast cancer, I know how difficult it is sometimes to find that necessary inner strength. These women are going to face unexpected challenges I cannot even begin to imagine out there on the ocean and will have to learn how to overcome them."
To keep up to date with the crew's journey visit The Coxless Crew Blog, and read more about Meg on her Coxless Crew profile.
You can also donate or 'Buy a mile' on The Coxless Crew Official website.
---
About the University of Westminster:
The University of Westminster boasts a vibrant learning environment attracting more than 20,000 students from over 150 nations and we continue to invest in our future with new developments, research projects and new ideas.
We offer highly attractive practice-based courses that are independently rated as excellent, many with international recognition. Our distinguished 180-year history has meant we lead the way in many areas of research, particularly politics, media, art and design, architecture and biomedical sciences, and our position in the city of London allows us to continue to build on our close connections with leading figures and organisations in these areas as well as in the worlds of business, information technology, politics and law.
Our commitment to educating graduates for the needs of professional life attracts high quality students from within the UK and around the globe.
Internationalisation, employability and sustainability are key elements in the University of Westminster's vision for the future and we strive to ensure the very highest standards are met and maintained.
Here we hope you find everything you will need to research, write and publish your story or blog post.