Westminster's Clare Twomey joins Stephen Fry in commemorating Holocaust survivors
22 January 2015
Clare Twomey of the Faculty of Media, Arts and Design is involved with the project entitled Memory Makers commissioned by the Holocaust Memorial Day Trust. This major new art project has paired seven artists with survivors of genocide who are living in the UK. The survivors' stories will be interpreted and explored through writing, poetry, film, ceramics, illustration and collage.
As part of her art commission, Clare met Nisad 'Šiško' Jakupović, 49, who survived the notorious Omarska concentration camp during the Bosnian War. The pair discussed Nisad's experience of the camps, and how human solidarity can triumph even in horrific circumstances. Clare's visual response to Nisad's story is published on the Keep the Memory Alive website ahead of Holocaust Memorial Day on 27 January.
Clare Twomey's Memory Makers project will be developed over the next year. To mark Holocaust Memorial Day, Clare will invite the public by very special invitation to give their thoughts on the subject of humanity. The artist will be walking over Westminster Bridge from 7am until 7pm on 27 January, politely and quietly giving away two thousand invitations to people crossing Westminster Bridge.
This invitation will offer passer-bys the opportunity to have their words placed on thousands of beautiful porcelain objects that will be made in the coming year. These objects will be handed back to the public as gifts on Westminster Bridge, on the same date date one year from now, 27 January 2016. The recipients will become the custodians of people's thoughts.
In speaking about the project, Clare Twomey said: "Through the artwork I am making I hope to allow the public to consider how humanity is something we possess. The custodians we create next year for the thoughts and hopes given by this year's participants will act as a baton for others to carry thoughts of the humane into the future."
Besides being a research fellow of the University of Westminster, Clare is an artist and curator. Her work negotiates the realms of performance, serial production, and transience, and often involves site-specific installations. She has worked with the Foundling Museum, the Victoria and Albert Museum, the Tate, and has presented commissions in the USA, Korea, Holland, Canada, Japan and Italy.
The other artists on the project include the much-loved writer, broadcaster and comedian Stephen Fry who met with 89-year-old Anita Lasker-Wallfisch, a cellist and a surviving member of the Women's Orchestra in Auschwitz; London-based poet Sarah Hesketh, who met Holocaust survivor 84-year-old Eve Kugler; visually impaired illustrator Kimberley Burrows, who met 92-year-old Holocaust survivor Sabina Miller; London-born collage artist Martin O'Neil, in collaboration with Andrew Griffin, who met 82-year-old Holocaust survivor Bettine Le Beau; and film director Debs Paterson who met Holocaust survivor Janine Webber.
Olivia Marks-Woldman, Chief Executive of the Holocaust Memorial Day Trust said, "These works interpret survivors' life stories in new ways and are a fantastic tribute to the survivors and their memories. These powerful and beautiful artistic responses to personal experiences of the Holocaust and genocide challenge us to consider our own responses to the past and responsibilities today.
"These artworks remind us how important it is to confront all forms of hatred and discrimination wherever we see them, and we hope they will take their message to new audiences and communicate their lessons for us all."
The Holocaust Memorial Day Trust is the charity established by the government to promote and support Holocaust Memorial Day, encouraging and inspiring individuals and organisations across the UK to play their part in learning lessons from the past and creating a safer, better future.
You can follow Clare's updates on the project on Twitter @CTwomeyStudio. Clare will be posting updates on the day as her project begins. Further information on the Memory Maker project.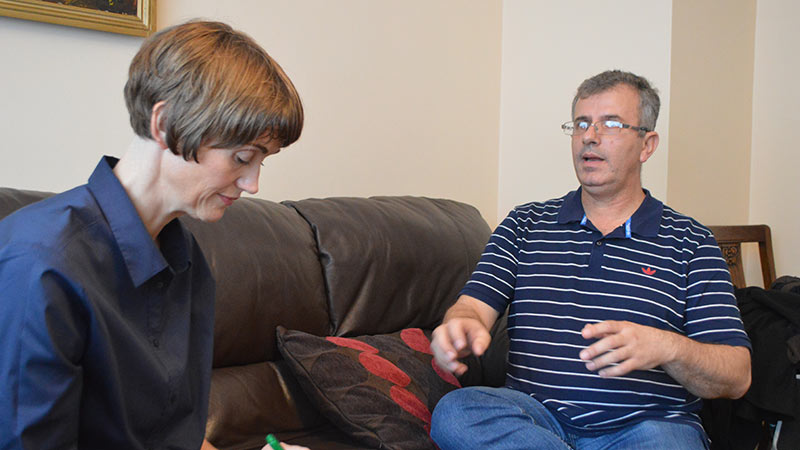 Clare Twomey and Nisad Jakupović.
---
About the University of Westminster:
The University of Westminster boasts a vibrant learning environment attracting more than 20,000 students from over 150 nations and we continue to invest in our future with new developments, research projects and new ideas.
We offer highly attractive practice-based courses that are independently rated as excellent, many with international recognition. Our distinguished 180-year history has meant we lead the way in many areas of research, particularly politics, media, art and design, architecture and biomedical sciences, and our position in the city of London allows us to continue to build on our close connections with leading figures and organisations in these areas as well as in the worlds of business, information technology, politics and law.
Our commitment to educating graduates for the needs of professional life attracts high quality students from within the UK and around the globe.
Internationalisation, employability and sustainability are key elements in the University of Westminster's vision for the future and we strive to ensure the very highest standards are met and maintained.
Here we hope you find everything you will need to research, write and publish your story or blog post.