Vivienne Westwood chooses University of Westminster for London Fashion Week catwalk show
Fashion
24 September 2015
Vivienne Westwood unveiled her Spring/Summer 2016 Red Label collection to industry insiders as part of London Fashion Week on Sunday 20 September. Fashion designers, buyers, merchandisers and journalists were in attendance at the catwalk show held at the University's contemporary exhibition.
Known for her passion for politics, Vivienne Westwood transformed her catwalk show into an anti-austerity protest, blending style with politics and sharp tailoring with anti-austerity placards.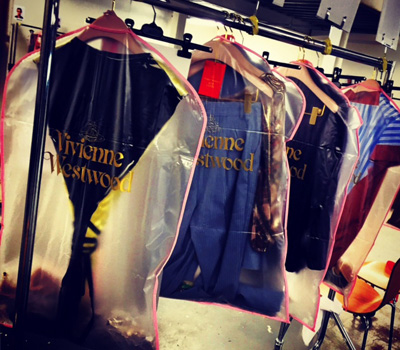 "At this point in time it's incredibly important, also, to be political because we face incredible danger from our politicians and we've got to stop them! They cause climate change and war" Westwood wrote in a letter given to each of her guests.
As one of the most influential fashion designers in the world today, Vivienne Westwood has become admired for her thought-provoking and ground-breaking fashion. Today the Vivienne Westwood brand is one of the last independent global fashion companies in the world.
The embryonic stages of the fashion designer's career began at the University of Westminster. At the age of 17, Vivienne relocated to London with her family and began studying a jewellery and silversmith course at the University (then known as Harrow Art School) from 1957-58.
In 1971 Vivienne began fashion designing along with her partner Malcolm McLaren, when London was at the forefront of cultural trends. The showcase for their ideas and designs was the shop at 430 Kings Road, London which remains there today.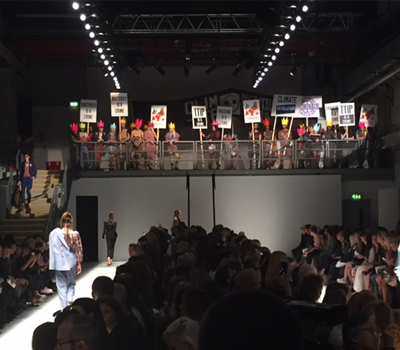 The choice to showcase Vivienne Westwood's latest Red Label collection at Ambika P3 not only recognises the excellent contemporary exhibition space that the University has to offer, but also reflects the outstanding reputation Westminster has for fashion.
Professor Katharine Heron, Director of Ambika P3, said: "Vivienne Westwood is a fantastic role model for all our creative students as a highly successful woman designer with strong ethical values."
Niall Carter, Business and Venue Manager at Ambika P3, commented: "It was fantastic working on Vivienne Westwood's SS16 catwalk show these past six months. Westwood had a clear vision of what she wanted and her team were a pleasure to work with. After the show Vivienne was extremely happy and stated that she thought Ambika P3 was a fantastic venue."
In recent years Westminster Fashion has produced a new wave of designers who show at London Fashion Week including Claire Barrow, Ashley Williams, Liam Hodges, Louise Alsop, and Mary Benson.
Learn more about the Fashion Design BA Honours course at the University of Westminster.
---
About the University of Westminster:
The University of Westminster boasts a vibrant learning environment attracting more than 20,000 students from over 150 nations and we continue to invest in our future with new developments, research projects and new ideas.
We offer highly attractive practice-based courses that are independently rated as excellent, many with international recognition. Our distinguished 180-year history has meant we lead the way in many areas of research, particularly politics, media, art and design, architecture and biomedical sciences, and our position in the city of London allows us to continue to build on our close connections with leading figures and organisations in these areas as well as in the worlds of business, information technology, politics and law.
Our commitment to educating graduates for the needs of professional life attracts high quality students from within the UK and around the globe.
Internationalisation, employability and sustainability are key elements in the University of Westminster's vision for the future and we strive to ensure the very highest standards are met and maintained.
Here we hope you find everything you will need to research, write and publish your story or blog post.