University of Westminster runs second Architecture summer school
Architecture and Interiors
3 August 2015
The programme aimed to give students the experience of studying architecture at university, while helping them with their portfolio and personal statement. Throughout the three days of the summer school, the group was involved in a range of activities that would help inspire and prepare them for their journey into the world of architecture.
"Summer school gives an inside view of what it's like to study architecture – it' s intense, it's experimental and all about the process, while having fun with 1:1 scale and group work."
Maria Kramer (main tutor)
Summer school at the University of Westminster mainly focuses on drawing, model making, attending exhibitions, lectures and getting the experience of working in a design studio.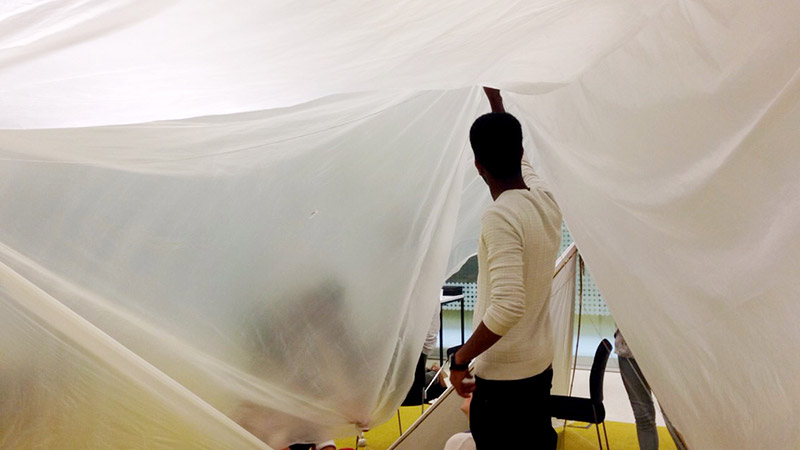 Building the 1:1 scale structures
"It was great to see how the students broke out of their shell and began to be more daring and experimental with their drawings. You could really see them gaining confidence."
Ilar Farrokhzad (guest tutor)
The course makes great use of its central location, which allows group visits to relevant exhibitions, galleries and important architectural sites. Pupils on the summer school programme get the opportunity to see the facilities at the University of Westminster, including the workshops and Fabrication Laboratory.
By the last day of the summer school, everyone had bonded with their group mates and has potentially made connections to last a lifetime.
Tutors: Maria Kramer, Ilar Farrokhzad (guest tutor), Charlotte Brookehouse (guest tutor)
Lecturers: Steve Bowkett (author of best selling book Archi-Doodle, Julian Williams (BA Architecture Course Leader)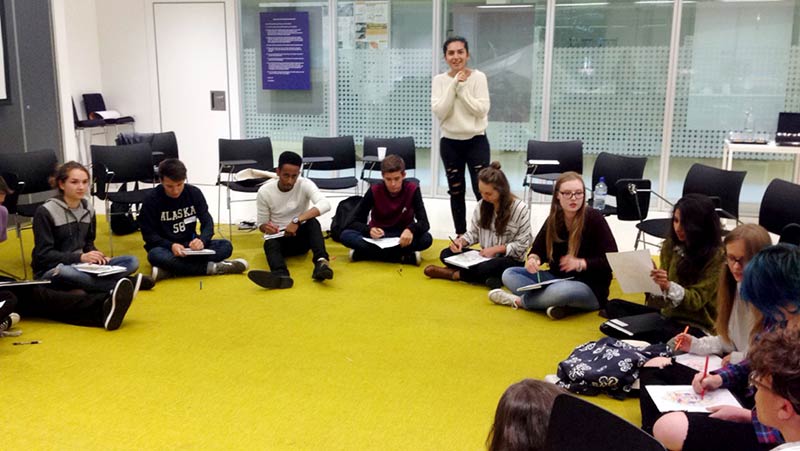 Students participate in a short drawing exercise to end the day
---
About the University of Westminster:
The University of Westminster boasts a vibrant learning environment attracting more than 20,000 students from over 150 nations and we continue to invest in our future with new developments, research projects and new ideas.
We offer highly attractive practice-based courses that are independently rated as excellent, many with international recognition. Our distinguished 180-year history has meant we lead the way in many areas of research, particularly politics, media, art and design, architecture and biomedical sciences, and our position in the city of London allows us to continue to build on our close connections with leading figures and organisations in these areas as well as in the worlds of business, information technology, politics and law.
Our commitment to educating graduates for the needs of professional life attracts high quality students from within the UK and around the globe.
Internationalisation, employability and sustainability are key elements in the University of Westminster's vision for the future and we strive to ensure the very highest standards are met and maintained.
Here we hope you find everything you will need to research, write and publish your story or blog post.