University of Westminster hosts Go4SET Celebration Day promoting STEM subjects to school pupils
8 July 2015
The ten-week Go4SET project, entitled 'My Technology My Money!', saw a large number of secondary school pupils participating. The challenge, run by the Engineering Development Trust (EDT), not only promoted STEM subjects but it also presented pupils with an opportunity to be mentored by industry professionals and to showcase their projects to an Assessment Panel consisting of representatives from MasterCard, Symantec, Laing O'Rourke, Lloyds and UCL.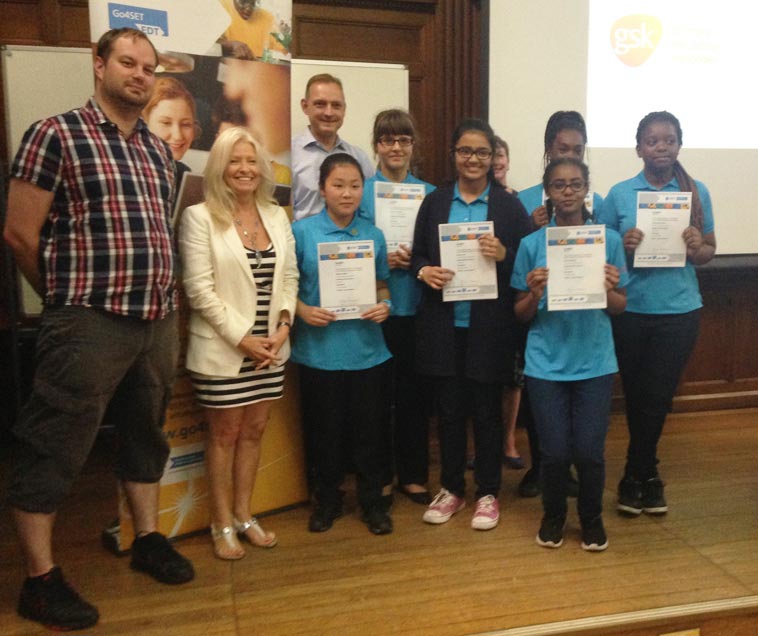 The Pupils Choice prize went for the Reading Girls Little Einsteins team
Pupils were first required to research the technology used in relation to spending and tracking money in the past. Then they identified and researched current technologies to manage money, and thought about new technologies that could change the way money is spent, saved and tracked in the future.
The event concluded with a graduation and awards ceremony in which the Hammersmith Academy STEM Masters team working with ADS, a premier trade organisation for any companies operating in the UK Aerospace, Defence, Security and Space sectors, were declared the Best Overall Team.
Other prizes given out to participants included 'The Pupil's Choice' won by the Reading Girls Little Einsteins team working with Symantec, and 'The Most Innovative' prize won by the Haberdashers Only Pros No Cons Boys team working with MasterCard.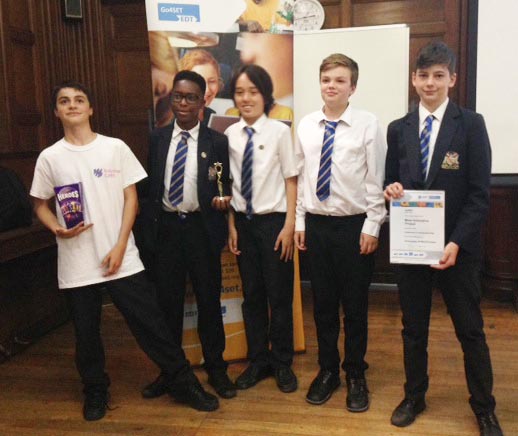 The Most Innovative prize went to the Haberdashers Only Pros No Cons Boys team
The Celebration and Assessment Day was attended by pupils from secondary schools such as Royal Greenwich UTC, Hammersmith Academy, Haberdashers Askes Hatcham College, Plumstead Manor School and Reading Girls School.
In recognition of the importance of promoting STEM subjects, the University of Westminster is sponsoring a new University Technical College (UTC), named Sir Simon Milton Westminster UTC, in the heart of London's West End, which will open its doors for 14–18 year olds in 2017. An unrivalled Employer Alliance, consisting of Network Rail (lead employer partner), Transport for London, BT Fleet, Land Securities, Crossrail, Alstom and Sir Robert McAlpine, supports this development through contributions to curriculum design in transport engineering and construction engineering and management. In 2017, the UTC will admit 225 pupils from across London, with 75 joining Year 10 and 150 joining Year 12.
---
About the University of Westminster:
The University of Westminster boasts a vibrant learning environment attracting more than 20,000 students from over 150 nations and we continue to invest in our future with new developments, research projects and new ideas.
We offer highly attractive practice-based courses that are independently rated as excellent, many with international recognition. Our distinguished 180-year history has meant we lead the way in many areas of research, particularly politics, media, art and design, architecture and biomedical sciences, and our position in the city of London allows us to continue to build on our close connections with leading figures and organisations in these areas as well as in the worlds of business, information technology, politics and law.
Our commitment to educating graduates for the needs of professional life attracts high quality students from within the UK and around the globe.
Internationalisation, employability and sustainability are key elements in the University of Westminster's vision for the future and we strive to ensure the very highest standards are met and maintained.
Here we hope you find everything you will need to research, write and publish your story or blog post.