TFL's Art on the Underground project provides Westminster students with a platform to showcase their work
Art and Design
23 June 2015
Students from the University of Westminster were able to submit their entries to the competition. The entries were assessed and chosen by a team of judges from TFL.
Lucy O'Grady, Marketing Manager for the University's Faculty of Media, Arts and Design, commented on the exciting collaboration, saying: "Working with TFL on the Art on the Underground project has been a fantastic opportunity to work with our neighbours at Northwick Park Underground station to create a welcoming environment for all. The University of Westminster's Harrow campus specialises in Media Arts and Design and the project has given us a platform to show our work to the local community. We look forward to continue working with London Underground on this project over years to come."
The University of Westminster's Harrow Campus at Northwick Park is home to the Faculty of Media, Arts and Design, a hub of talent and creativity influencing future trends in style, design, entertainment, and media industries. Students are taught many disciplines in the fields of Art and Design, Fashion, Film, Journalism and Mass Communications, Music, and Photography.
TFL Art on the Underground said: "Art on the Underground is proud to be able to support the next generation of artists and designers from the University of Westminster Harrow campus. This community project at Northwick Park builds on London Underground's strong legacy of great art and design and strengthens Transport for London's links with the people it serves by engaging audiences, re-imagining spaces, and changing the way we experience the city."
Art on the Underground champions contemporary art by offering the Tube as a unique opportunity to an international range of artists; from those with an established reputation to those at the beginning of promising careers.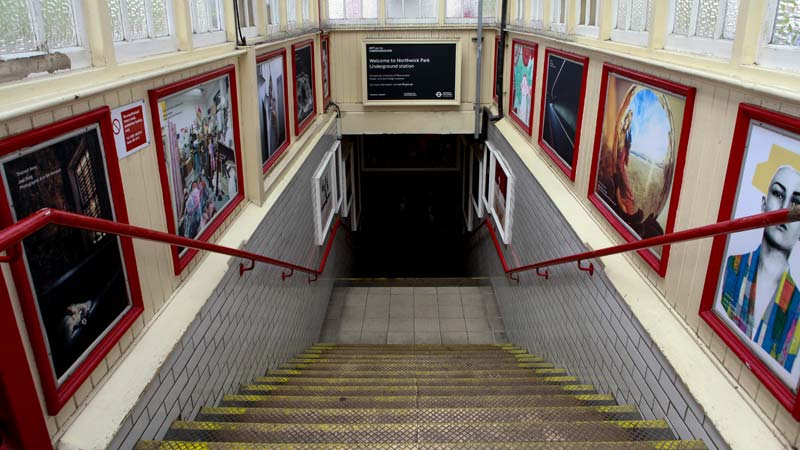 ---
About the University of Westminster:
The University of Westminster boasts a vibrant learning environment attracting more than 20,000 students from over 150 nations and we continue to invest in our future with new developments, research projects and new ideas.
We offer highly attractive practice-based courses that are independently rated as excellent, many with international recognition. Our distinguished 180-year history has meant we lead the way in many areas of research, particularly politics, media, art and design, architecture and biomedical sciences, and our position in the city of London allows us to continue to build on our close connections with leading figures and organisations in these areas as well as in the worlds of business, information technology, politics and law.
Our commitment to educating graduates for the needs of professional life attracts high quality students from within the UK and around the globe.
Internationalisation, employability and sustainability are key elements in the University of Westminster's vision for the future and we strive to ensure the very highest standards are met and maintained.
Here we hope you find everything you will need to research, write and publish your story or blog post.