Summer studentship awards for six Westminster undergraduates
22 July 2015
Each award provides a stipend and consumables costs to enable the student to conduct scientific investigations under the supervision of an experienced academic, reporting findings to the funding body at the end of the six- or eight-week period.
Second year Biomedical Sciences undergraduate Sophie Hawkins was awarded a Genetics Society Summer Studentship to work on a project on acquired genome damage in obesity in Dr Emanuela Volpi's laboratory. With responsibility for a specific set of experiments involving micronuclear analysis, Sophie will be gaining invaluable hands-on experience of a range of advanced microscopy and molecular biology techniques.
Also in receipt of a Genetics Society award, Alina Ozuna will be conducting research with Dr Sterghios Moschos into the utility of point-of-care biofluid nucleic acid test technology for rapid preparation of next generation, sequencing-grade DNA libraries. The aim is to determine if these innovations can enable next generation sequencing to move closer to the bedside. If successful, results will ease the sample processing bottleneck that adds hours and hundreds of pounds to the cost of diagnostic procedures.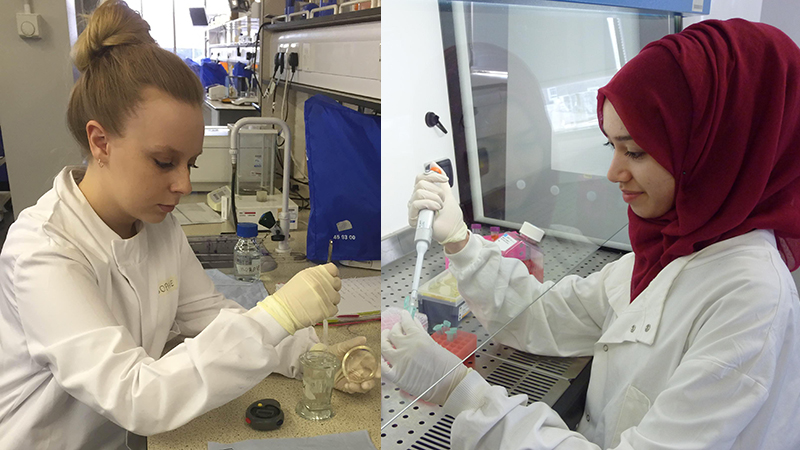 Sophie Hawkins (left) and Jarka Naser (right)
Jarka Naser's Wellcome Trust Biomedical Vacation Scholarship will enable her to do research (supervised by Dr Nelson Chong) into abnormal heart rhythm (cardiac arrhythmia), an often lethal condition affecting more than a million people in England alone. Specifically, Jarka's project is looking at the role of certain regulatory 'clock' genes in cardiac conductivity and arrhythmias. She will gain essential experience in planning, executing and analysing research data which will help her achieve her goal of securing a place on a PhD programme after graduation.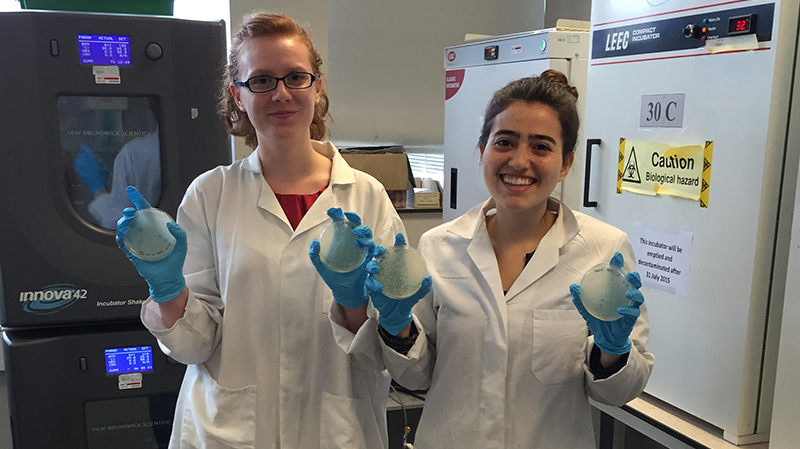 Heidi Falvey (left) and Camila Gaspar (right)
The Klebsiella pneumoniae bacterium is an important cause of infection in burn patients. Students Camila Gaspar (Harry Smith Vacation Studentship, Society for General Microbiology) and Heidi Falvey (Vacation Scholarship, British Society for Antimicrobial Chemotherapy) are using their awards to investigate bacteriophage therapy as an alternative to antibiotic treatment of the K. pneumoniae pathogen. Under the supervision of Dr Lesley Hoyles, they are working on isolating and characterising bacteriophages (bacteria-killing viruses) from numerous environmental sources to allow the development of bacteriophage cocktails for potential use in clinical settings, and from which novel insights may be gained on the interactions of bacteriophages with their hosts.
Winner of a Physiological Society Vacation Studentship, Lady Barrios Silva is participating in a project led by Dr Richard MacKenzie researching the role of the protein inositol hexakisphosphate Kinase 1 (IP6K1) in the development of Type 2 diabetes. As part of Dr MacKenzie's thriving research team she is learning a range of essential physiological lab techniques under expert supervision.
---
About the University of Westminster:
The University of Westminster boasts a vibrant learning environment attracting more than 20,000 students from over 150 nations and we continue to invest in our future with new developments, research projects and new ideas.
We offer highly attractive practice-based courses that are independently rated as excellent, many with international recognition. Our distinguished 180-year history has meant we lead the way in many areas of research, particularly politics, media, art and design, architecture and biomedical sciences, and our position in the city of London allows us to continue to build on our close connections with leading figures and organisations in these areas as well as in the worlds of business, information technology, politics and law.
Our commitment to educating graduates for the needs of professional life attracts high quality students from within the UK and around the globe.
Internationalisation, employability and sustainability are key elements in the University of Westminster's vision for the future and we strive to ensure the very highest standards are met and maintained.
Here we hope you find everything you will need to research, write and publish your story or blog post.