Psychology academic represents Daphne Jackson Trust at L'Oreal–UNESCO science awards
Psychology
7 July 2015
Established in 1998, the L'Oreal-UNESCO partnership is a long-term commitment to recognising women in science and supporting scientific vocations. For Women in Science has grown into a global programme that includes International, Regional and National Fellowships and an international network of over 2,000 women in over 100 countries.
Dr Forrester has previously held a Daphne Jackson Trust Research Fellowship, which is designed to help women and men working in STEM (science, technology, engineering and maths) disciplines return to research with confidence after a career break. She is a comparative cognitive neuroscientist interested in the evolution and development of human cognition. Her research involves the integration of modern technology and the convergence of methodologies across multiple disciplines.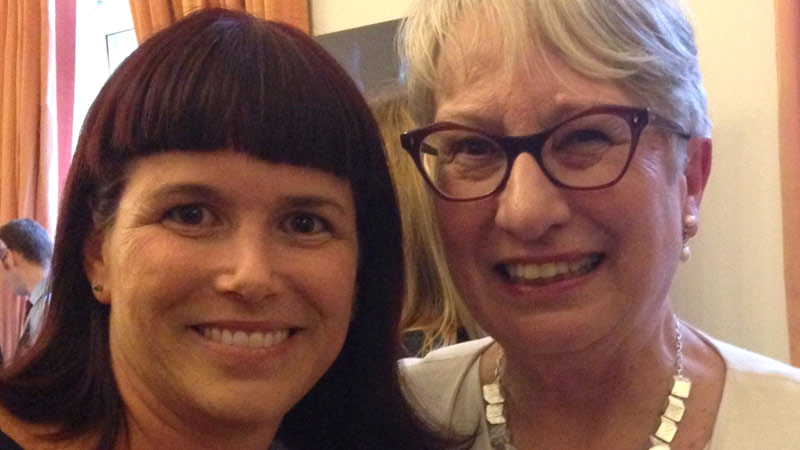 Gillian Forrester with Professor Dame Uta Frith at the awards ceremony
Speaking about having been awarded a Daphne Jackson Trust Fellowship, Dr Forrester said: "I was elated to have been awarded a Daphne Jackson Trust Fellowship. My fellowship allowed me to return to a career in science as a competitive academic while maintaining a healthy work-life balance."
The University of Westminster's Faculty of Science and Technology is currently recruiting two Daphne Jackson Trust Fellows in Psychology and Biomedical Sciences as part of their Athena SWAN action plan. The Athena SWAN Charter recognises commitment to advancing women's careers in science, technology, engineering, maths and medicine.
---
About the University of Westminster:
The University of Westminster boasts a vibrant learning environment attracting more than 20,000 students from over 150 nations and we continue to invest in our future with new developments, research projects and new ideas.
We offer highly attractive practice-based courses that are independently rated as excellent, many with international recognition. Our distinguished 180-year history has meant we lead the way in many areas of research, particularly politics, media, art and design, architecture and biomedical sciences, and our position in the city of London allows us to continue to build on our close connections with leading figures and organisations in these areas as well as in the worlds of business, information technology, politics and law.
Our commitment to educating graduates for the needs of professional life attracts high quality students from within the UK and around the globe.
Internationalisation, employability and sustainability are key elements in the University of Westminster's vision for the future and we strive to ensure the very highest standards are met and maintained.
Here we hope you find everything you will need to research, write and publish your story or blog post.