New book: Alessandro D'arma's Media and Politics in Contemporary Italy: From Berlusconi to Grillo
4 November 2015
The book provides a comprehensive examination of the media system in Italy during the last 20 years. Seeing the rise of new political actors and the growing role of the Internet and social media, the general elections of February 2013 have symbolically closed a 20-year period of Italian history dominated by Silvio Berlusconi politically and by television as channel of political communication.
Peter Humprheys, Professor of at the University of Manchester, said about the book: "This meticulously researched book makes for essential reading on the subject of the relationship between politics and the media in contemporary Italy. Alessandro D'Arma's detailed exploration of media policy and political journalism provides authoritative insight into the politics/media nexus in this fascinating and in many ways quite singular country case. This book will be a standard point of reference for scholars of Italian media policy and political communication."
Raymond Khun, Professor of Politics at Queen Mary University of London: "Alessandro D'Arma's book on the complex interdependent relationship between media and politics in the Italian Second Republic shows an author in total command of his subject matter. D'Arma expertly analyses several key themes in contemporary Italian political communication, from the interventionist excesses of the Berlusconi years to Beppe Grillo's skillful exploitation of social media for electoral purposes. Written in an engaging and lucid style, D'Arma's book is a very welcome addition to the literature on politics and media in leading European nation states."
Dr Rasmus Kleis Nielsen, Director of Research at the Reuters Institute for the Study of Journalism: "This is a comprehensive and concise analysis of the most important developments in Italian media and politics over the last twenty years. D'Arma effectively combines key insights from media research, political science, and historical research to capture both where the Italian situation is truly exceptional and where it is more broadly indicative of the changing relations between old media platforms, new digital technologies, and the deeply rooted political, economic, and cultural factors that shape how they develop. A welcome contribution to our understanding of Italy – and of media and politics more broadly.".
Further information about the book.
D'Arma, Alessandro. 2015. Media and Politics in Contemporary Italy; from Berlusconi to Grillo. Lanham: Lenxinton Books. ISBN Hardcover 978-0-7391-8618-3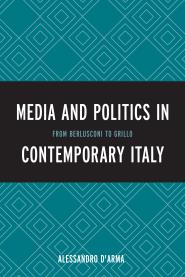 ---
About the University of Westminster:
The University of Westminster boasts a vibrant learning environment attracting more than 20,000 students from over 150 nations and we continue to invest in our future with new developments, research projects and new ideas.
We offer highly attractive practice-based courses that are independently rated as excellent, many with international recognition. Our distinguished 180-year history has meant we lead the way in many areas of research, particularly politics, media, art and design, architecture and biomedical sciences, and our position in the city of London allows us to continue to build on our close connections with leading figures and organisations in these areas as well as in the worlds of business, information technology, politics and law.
Our commitment to educating graduates for the needs of professional life attracts high quality students from within the UK and around the globe.
Internationalisation, employability and sustainability are key elements in the University of Westminster's vision for the future and we strive to ensure the very highest standards are met and maintained.
Here we hope you find everything you will need to research, write and publish your story or blog post.