MA Creative Writing student writes play during internship
English
7 September 2015
Darkridge is set behind the wrought iron gates of a Victorian asylum and will premiere on 16 September 2015 at 3 Mills Film Studios in Stratford, East London.
Christina said: "Interning for Doughnut Productions has been one of the most exciting and rewarding experiences of my life. I'm truly grateful to Kate Austen and Andy Cooper for taking a chance with me, it's an internship that writers would dream of and I'm very lucky to work with such kind people. They've created something special with the Doughnut Theatre space, it's a wrap around stage with swivel seats, so it's really pushing the theatre world into the 21st century. Writing for this specific type of stage was challenging but exciting. I also think that interning for a start-up business is the best experience for any graduate. I wanted an internship that could teach me about the entertainment industry, because that's the area I want to work in....and Doughnut has taught me just that. I've been part of auditions and rehearsals and have been in the thick of all the action, observing and learning every step of the way. I'll remember this experience for the rest of my life!"
Information on how to book tickets for Darkridge on the website of Doughnut Productions.
More information about the Creative Writing: Writing the City MA at the University of Westminster.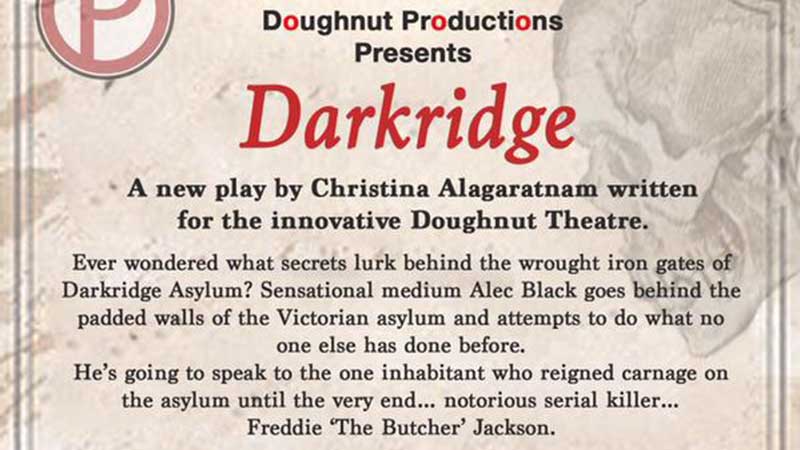 ---
About the University of Westminster:
The University of Westminster boasts a vibrant learning environment attracting more than 20,000 students from over 150 nations and we continue to invest in our future with new developments, research projects and new ideas.
We offer highly attractive practice-based courses that are independently rated as excellent, many with international recognition. Our distinguished 180-year history has meant we lead the way in many areas of research, particularly politics, media, art and design, architecture and biomedical sciences, and our position in the city of London allows us to continue to build on our close connections with leading figures and organisations in these areas as well as in the worlds of business, information technology, politics and law.
Our commitment to educating graduates for the needs of professional life attracts high quality students from within the UK and around the globe.
Internationalisation, employability and sustainability are key elements in the University of Westminster's vision for the future and we strive to ensure the very highest standards are met and maintained.
Here we hope you find everything you will need to research, write and publish your story or blog post.