International Development Management MA students visit the United Nations
Business and Management
10 July 2015
Accompanied by Dr Ola Sholarin, Dr Vincent Rich and a few International Economic Policy and Analysis MA/MSc students, the team enjoyed two days of lectures from representatives of various departments including: the United Nations Office at Geneva (UNOG), the United Nations Development Programme (UNDP), the United Nations Economic Commission for Europe (UNECE), the World Meteorological Organisation (WMO), the United Nations Conference on Trade and Development (UNCTAD), the United Nations Office for Disaster Risk Reduction (UNISDR), and the United Nations Office for the Coordination of Humanitarian Assistance (UNOCHA).
For the students, this trip was an invaluable opportunity to see Development at work and to gain a greater understanding of how the United Nations operates. It was also a chance to network and to ask questions, to debate critical issues and to be inspired by UN practitioners. As IDM MA student Salma Al-Hassan said '"Just because you face…barriers doesn't mean you don't do your part. Do the little that you can – this is something that I took from the trip."
In light of such a successful experience we would once again like to thank the United Nations, Geneva for their hospitality, for engaging staff and students and for welcoming us so warmly.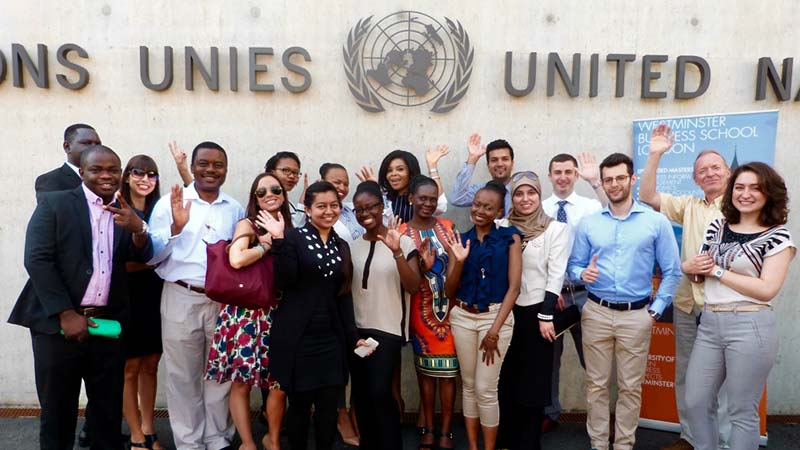 You can find out more via our blog and via our Facebook photo album. Students, staff and the UN team were also active on social media throughout the trip and you can follow the feed on Twitter and Instagram using the hashtag #IDMvistsUN.
Student perspectives
"The trip to UN Geneva...[was] such an unforgettable experience and opportunity...The biggest thing I will take from the trip is sitting in the UN office in a sweltering boardroom and realising that even the most impossible hopes and dreams can become reality. To dare to dream, and dream big, and pursue the best version of your life as best you can!"
Lorna Kamau (International Economic Policy and Analysis MSc)
"This trip has been so amazing because…I [now] have a clear picture of the interventions that the UN supports."
Betty Nairuba (International Development Management MA)
---
About the University of Westminster:
The University of Westminster boasts a vibrant learning environment attracting more than 20,000 students from over 150 nations and we continue to invest in our future with new developments, research projects and new ideas.
We offer highly attractive practice-based courses that are independently rated as excellent, many with international recognition. Our distinguished 180-year history has meant we lead the way in many areas of research, particularly politics, media, art and design, architecture and biomedical sciences, and our position in the city of London allows us to continue to build on our close connections with leading figures and organisations in these areas as well as in the worlds of business, information technology, politics and law.
Our commitment to educating graduates for the needs of professional life attracts high quality students from within the UK and around the globe.
Internationalisation, employability and sustainability are key elements in the University of Westminster's vision for the future and we strive to ensure the very highest standards are met and maintained.
Here we hope you find everything you will need to research, write and publish your story or blog post.