Full line-up of talent to showcase at the Summer Streets festival revealed by University of Westminster
22 July 2015
Performances by new and ground-breaking artists from the University's world-leading music courses will take place in the afternoon from 2–5pm on the University's stage adjacenet to 235 Regent Street outside of Apple Store and Ted Baker. The University will be represented by hot new talent featuring names like Emmanuel Nwamadi, who appeared in BBC's The Voice coming third in the live final, and singer songwriter Zara Kershaw, whose summer single 'Souvenirs' shot straight to number 9 on the iTunes Electronic Chart. They will be joined at the Summer Streets culture weekend by artists Bela Takes Chase, Rosie Blackaller, Jarell, Tally Spear and Wyse, who are all shaping today's music industry.
Hussein Boon, Programme Director for the Commercial Music Performance BMus course, said: "We have come a long way since 1993 when we established our first music course at Westminster. Our portfolio of music courses has expanded and grown to include MA courses in Audio Production, Music Business Management and Applied Sound for Interactive Devices. We are proud that our alumni successes are many and go beyond narrow genre expectations. On behalf of students and staff we hope you enjoy the performances on 26 July and look out for them in the future. All new artists need your support!"
Having recently reopened its Regent Street Cinema at 309 Regent Street, the University will be also showcasing a best in show selection of student work at the famous birthplace of British cinema. Some of its internationally leading undergraduate and postgraduate courses in animation, contemporary media practice, fashion, film and photography will show off Westminster students' remarkable imagination and curiosity, and will demonstrate a great variety of contemporary artistic expressions and high level of technical skills nurtured in the Faculty of Media, Arts and Design.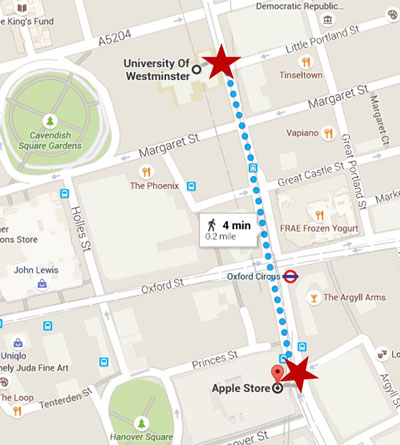 Recent graduates from the Photographic Studies MA course will showcase their art from 2pm and 4.20pm, followed by the screening of Contemporary Media Practice BA Honours films Foji Bagawat and Eelan at 2.30pm and 4.50pm. The latter is the debut film of graduate Leilani Franco that has recently won the 2015 Diversity in Cannes Short Film Showcase. Leilani, who graduated in 2014, made Eelan as a requiem film, dedicated to her younger brother Benjamin Eelan Franco (1989-2012), to commemorate the anniversary of his passing.
A Cycling Revolution, a documentary focused on the issue of cycling in London and the dangers cyclist face, and Inner City Blues, both produced by Television Production BA Honours students, will be screened at 3pm and 5.20pm.
With one of the most varied portfolios in Europe, the Faculty of Media, Arts and Design prepares students not just to enter the creative industries, but to shape and lead them. Westminster's strong reputation for professional and practice-based education is matched by a distinguished record in academic teaching and research, encouraging the development of reflective critical practitioners.
Regent Street Cinema
Stage at Regent Street (by Apple Store)

2–2.30pm

Photographic Studies MA

Selection of work by recent graduates

2–2.20pm

Wyse

2.30–3pm

Contemporary Media Practice BA Hons

Foji Bagawat (11 mins); Eelan (17 mins)

2.25–2.45pm

Tally Spear

3–3.30pm

Television Production BA Honours

A Cycling Revolution

2.50–3.15pm

Jarell

3.30–4.20pm

Film BA Honours (formerly Film and

Television Production BA Honours)

Selection of work by recent graduates

3.20–3.40pm

Rosie Blackaller

 

4.20–4.50pm

Photographic Studies MA

Selection of work by recent graduates

3.45–4.05pm

Zara Kershaw

4.50–5.20pm

Contemporary Media Practice BA Hons

Foji Bagawat (11 mins); Eelan (17 mins)

4.10–4.30pm

Bela Takes Chase

5.20–5.50pm

Television Production BA Honours

A Cycling Revolution

4.35–4.55pm

Emmanuel Nwamadi
Download the full Summer Streets programme of the University of Westminster (PDF 206 KB).
---
About the University of Westminster:
The University of Westminster boasts a vibrant learning environment attracting more than 20,000 students from over 150 nations and we continue to invest in our future with new developments, research projects and new ideas.
We offer highly attractive practice-based courses that are independently rated as excellent, many with international recognition. Our distinguished 180-year history has meant we lead the way in many areas of research, particularly politics, media, art and design, architecture and biomedical sciences, and our position in the city of London allows us to continue to build on our close connections with leading figures and organisations in these areas as well as in the worlds of business, information technology, politics and law.
Our commitment to educating graduates for the needs of professional life attracts high quality students from within the UK and around the globe.
Internationalisation, employability and sustainability are key elements in the University of Westminster's vision for the future and we strive to ensure the very highest standards are met and maintained.
Here we hope you find everything you will need to research, write and publish your story or blog post.