Faculty of Social Sciences and Humanities opens new learning spaces at Regent Campus
7 December 2015
Situated on the upper fourth floor of 301 Regent Street, a dedicated learning area for Modern Languages students has been created. The space encourages greater interaction between staff and students and includes new state-of-the-art language labs for Interpreting and Translation students plus attractive offices for staff.
On the upper ground floor, a new lecture theatre and large classroom have been created plus a silent study space for students.
Professor Roland Dannreuther, Dean of the Faculty of Social Sciences and Humanities said: "I am delighted with these wonderful new learning spaces in the historic headquarters of the University of Westminster in 309 Regent Street. These spaces bring a sense of excitement to the student experience, providing modern state-of-the-art facilities that are sensitive to the illustrious history of the building."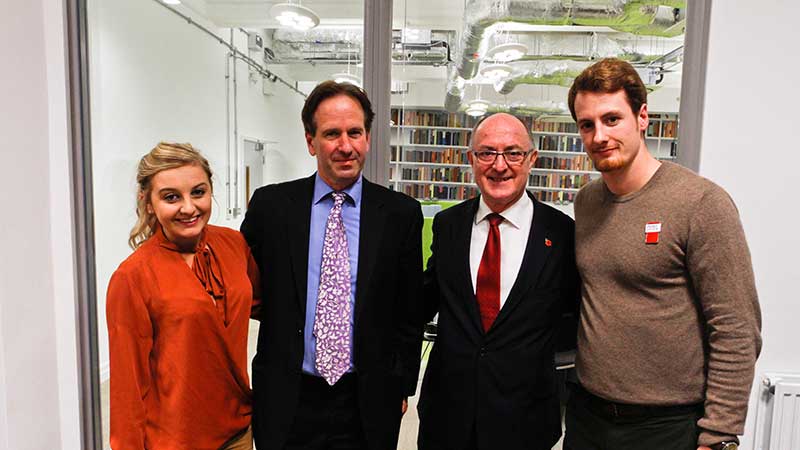 From left to right: Lauren Waugh, UWSU Vice President of Regent Street and Little Titchfield Street Campus; Professor Roland Dannreuther, Dean of the Faculty of Social Sciences and Humanities; Professor Geoff Petts, Vice-Chancellor of the University of Westminster; Jim Hirschmann, UWSU President
---
About the University of Westminster:
The University of Westminster boasts a vibrant learning environment attracting more than 20,000 students from over 150 nations and we continue to invest in our future with new developments, research projects and new ideas.
We offer highly attractive practice-based courses that are independently rated as excellent, many with international recognition. Our distinguished 180-year history has meant we lead the way in many areas of research, particularly politics, media, art and design, architecture and biomedical sciences, and our position in the city of London allows us to continue to build on our close connections with leading figures and organisations in these areas as well as in the worlds of business, information technology, politics and law.
Our commitment to educating graduates for the needs of professional life attracts high quality students from within the UK and around the globe.
Internationalisation, employability and sustainability are key elements in the University of Westminster's vision for the future and we strive to ensure the very highest standards are met and maintained.
Here we hope you find everything you will need to research, write and publish your story or blog post.