China Media Centre arranges briefing for senior Chinese editors
29 June 2015
The editors – who included Zhu Tiezhi, the Deputy Editor-in-Chief of Qiushi, the journal of the Central Committee of the Communist Party – visited the UK to find out more about policy in English-speaking countries and to debate economic, social and constitutional ideas. They were also here to learn how they could promote discussion and contributions to policy-making in China.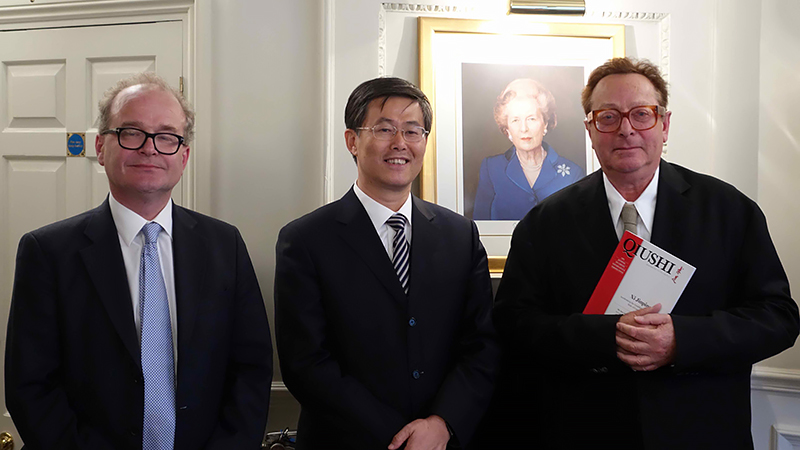 Zhu Tiezhi, Lord Saatchi and Tim Knox at the CPS.
Among others, they met Lord Saatchi, Lord Heseltine, Tim Knox and the editors of Prospect and The Spectator. They visited think-tanks such as the Centre for Policy Studies (CPS) and the Institute of Economic Affairs, and heard lectures from leading political scientists specialising in policy generation and communication.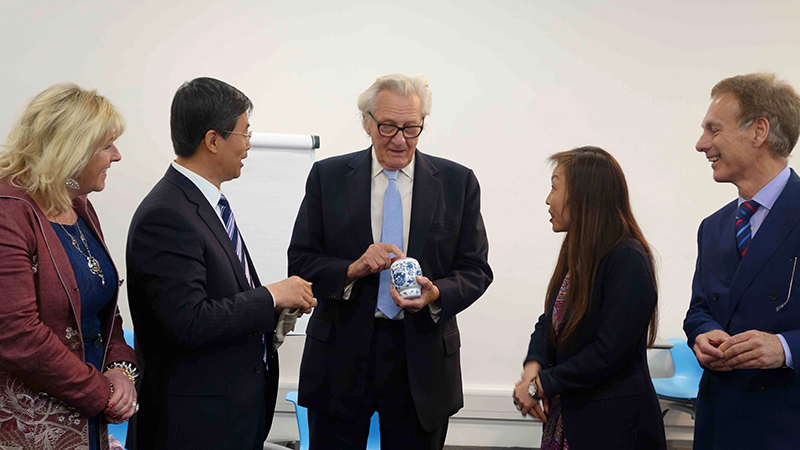 Zhu Tiezhi presented Chinese tea to Lord Heseltine after his talk to the delegation.
Read more about professional exchanges organised by the CMC.
---
About the University of Westminster:
The University of Westminster boasts a vibrant learning environment attracting more than 20,000 students from over 150 nations and we continue to invest in our future with new developments, research projects and new ideas.
We offer highly attractive practice-based courses that are independently rated as excellent, many with international recognition. Our distinguished 180-year history has meant we lead the way in many areas of research, particularly politics, media, art and design, architecture and biomedical sciences, and our position in the city of London allows us to continue to build on our close connections with leading figures and organisations in these areas as well as in the worlds of business, information technology, politics and law.
Our commitment to educating graduates for the needs of professional life attracts high quality students from within the UK and around the globe.
Internationalisation, employability and sustainability are key elements in the University of Westminster's vision for the future and we strive to ensure the very highest standards are met and maintained.
Here we hope you find everything you will need to research, write and publish your story or blog post.