Architecture academic receives two Regional RIBA awards
Architecture and Interiors
1 June 2015
Piercy & Company holds a reputation for bold ideas, strong forms and carefully crafted buildings. Led by Stuart Piercy, the studio's work continues the British architecture's traditional affinity with making, craftsmanship and inventiveness.
Kew House, a private house for engineer Tim Lucas, and an office created out of a burned-out building near Old Street, both received a 2015 RIBA London Award for architecture excellence.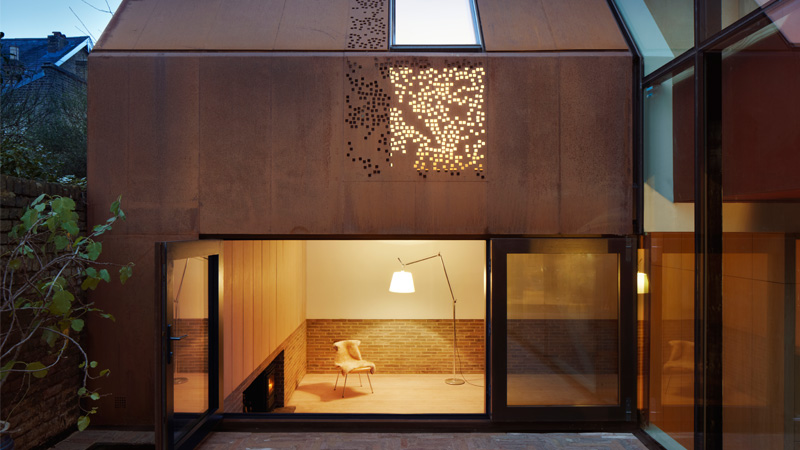 Kew House (c) Jack Hobhouse
Stuart Piercy said: "The awards celebrate work influenced by research both from my academic studio DS16 and my professional studio Piercy & Company. It is critical that ideas formed in research activities find their way into practical applications in built architecture. Exploring ideas through fabrication techniques and making is one of the key principles of DS16."
Stuart Piercy has previously won the 2014 Architect of the Year Award which is regarded as distinguished from other architectural awards as it honours overall achievement within a particular sector.
Piercy is a Fellow of the Royal Society of Arts, and has lectured extensively throughout the UK and Europe.
---
About the University of Westminster:
The University of Westminster boasts a vibrant learning environment attracting more than 20,000 students from over 150 nations and we continue to invest in our future with new developments, research projects and new ideas.
We offer highly attractive practice-based courses that are independently rated as excellent, many with international recognition. Our distinguished 180-year history has meant we lead the way in many areas of research, particularly politics, media, art and design, architecture and biomedical sciences, and our position in the city of London allows us to continue to build on our close connections with leading figures and organisations in these areas as well as in the worlds of business, information technology, politics and law.
Our commitment to educating graduates for the needs of professional life attracts high quality students from within the UK and around the globe.
Internationalisation, employability and sustainability are key elements in the University of Westminster's vision for the future and we strive to ensure the very highest standards are met and maintained.
Here we hope you find everything you will need to research, write and publish your story or blog post.