Alumni Telephone Appeal campaign returns to raise money in support of promising students
11 November 2015
During last year's Telephone Appeal, over 300 alumni joined the University's Alumni Fund, which supports a number of key projects across the University. As well as sharing memorable stories from University life and providing vital career advice to our student callers, our alumni generously pledged nearly £80,000 towards the Fund. This provided life-changing and career-enhancing opportunities for students, as well as helped to advance pioneering scientific research in the innovative spirit of the University's philanthropist founder Quintin Hogg.
Over the years the Telephone Appeal has contributed to many successes including, helping six academically gifted students achieve their potential and realise their ambitions despite financial hardship, through the newly-created 'New Generations Awards'. The appeal also enabled four students to gain valuable work experience through skills-building work placements abroad, as part of our 'Distant Horizons' programme.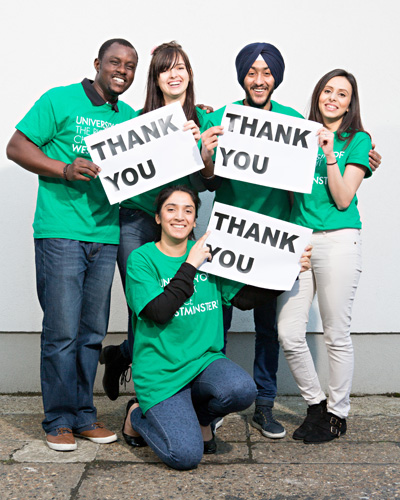 Speaking about the financial support offered to him by the University's Distant Horizons Award, Business Management BA Honours student Sorwar Khan provides one example of the positive outcome of the Alumni fund: "I have fulfilled a great achievement in being the first in my family to attend University and have reaped the success during my studies through my determination and perseverance. The financial assistance through the Distant Horizons Award has enabled me to accomplish and realise my ambition and broaden my future prospects on a global scale."
The University of Westminster remains committed to enabling access to education for all those who have the ambition and talent to learn, regardless of their means. This year we hope for another round of great support from our alumni to help us in achieving remarkable goals.
To find out more, please get in touch with the Development team on +44 (0)20 7911 5741 or [email protected], or visit our Support us page.
---
About the University of Westminster:
The University of Westminster boasts a vibrant learning environment attracting more than 20,000 students from over 150 nations and we continue to invest in our future with new developments, research projects and new ideas.
We offer highly attractive practice-based courses that are independently rated as excellent, many with international recognition. Our distinguished 180-year history has meant we lead the way in many areas of research, particularly politics, media, art and design, architecture and biomedical sciences, and our position in the city of London allows us to continue to build on our close connections with leading figures and organisations in these areas as well as in the worlds of business, information technology, politics and law.
Our commitment to educating graduates for the needs of professional life attracts high quality students from within the UK and around the globe.
Internationalisation, employability and sustainability are key elements in the University of Westminster's vision for the future and we strive to ensure the very highest standards are met and maintained.
Here we hope you find everything you will need to research, write and publish your story or blog post.