University of Westminster Students Win First Prize in the 2014 AIA UK Student Charrette
Architecture and Interiors
20 November 2014
The AIA UK Student Design Charrette 2014
took place on 8 November at the Roca Gallery, and the jury was chaired by Edna
Lüddecke of JDS Architects. In the one-day design competition, students in
groups of six to eight were given a brief and mentored by a practicing
architect or interior designer.
The University of Westminster's winning
team consisted of Ekaterina Dziadkowski, Fiona Thompson, Marcus Thompson-Smith,
Nouha Hansen, Rickesh Chandi, Sarah Abuzeid, Yagmur Karaca, Yasmin Lokat
and Shanice Tang-Wah. The students proposed a fun and whimsical water maze as a
reinterpretation of natural swimming in an urban environment, and a challenge
to the formal character of the new developments around the site in Chelsea
Harbour.
"We agreed to go with an idea that was a
simple solution yet a memorable design. It was an amazing experience to work in
a team under pressure – it really made us focus on the core elements of the
brief"
said the Westminster team.
The American
Institute of Architects represents more than 80,000 members worldwide, and is
the most influential voice for the architectural community in the United
States.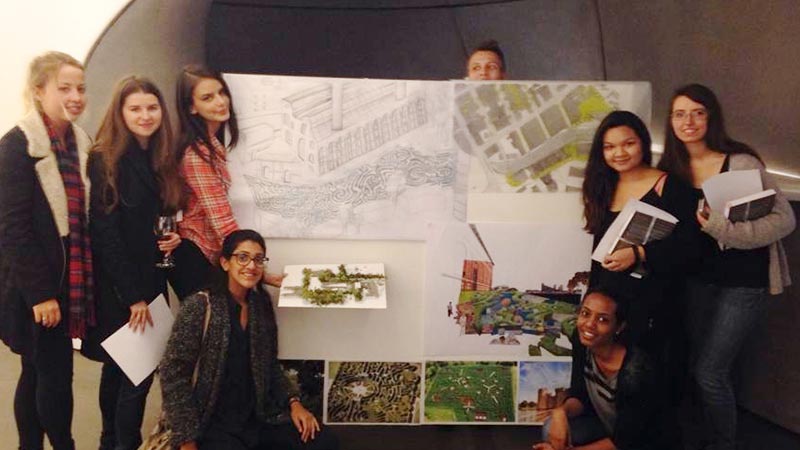 ---
About the University of Westminster:
The University of Westminster boasts a vibrant learning environment attracting more than 20,000 students from over 150 nations and we continue to invest in our future with new developments, research projects and new ideas.
We offer highly attractive practice-based courses that are independently rated as excellent, many with international recognition. Our distinguished 180-year history has meant we lead the way in many areas of research, particularly politics, media, art and design, architecture and biomedical sciences, and our position in the city of London allows us to continue to build on our close connections with leading figures and organisations in these areas as well as in the worlds of business, information technology, politics and law.
Our commitment to educating graduates for the needs of professional life attracts high quality students from within the UK and around the globe.
Internationalisation, employability and sustainability are key elements in the University of Westminster's vision for the future and we strive to ensure the very highest standards are met and maintained.
Here we hope you find everything you will need to research, write and publish your story or blog post.