International Design Competition winners from Chandigarh, India, receive their award at Westminster
Planning, Housing and Urban Design
30 June 2014
The winning students, Ankita Thakur, Ishita Bhatnagar, Gunmeet Singh and Sowmya Singh, from Chandigarh College of Architecture, India, visited Westminster from 16–20 June. Their winning work was displayed at the Architecture and Interiors end of year exhibition: OPEN 2014.
The theme of the 2013–14 competition was 'Latitudes – design for sustainable neighbourhoods'. It sought to encourage innovative and creative solutions to local issues of sustainable development. The competition has started a dialogue with architecture students in India to elaborate their role in dealing with climate responsive design in building sustainable neighbourhoods. Entries to the competition were received from students of architecture all over India.
"Starting from the enrollment, to the conception, the execution and finally winning 'Latitudes' and to get the opportunity to have a summer workshop with the University in London, it's been an overwhelming experience for all of us" says winner Gunmeet Singh. "The competition gave us a chance to explore the dimension of sustainability integrated with our design studio and then share our ideas with the equally competitive teams at NASA, Hyderabad.
"Our trip to London gave us a chance to have thoughtful dialogue with the experienced Faculty of Architecture and the Built Environment at the University of Westminster, having guided walking tours with them to have an insight into the architectural and planning aspects of the city of London making it an unforgettable experience altogether. This trip shall always be etched in my memory as it has helped me grow as a student of architecture and has equipped me better to explore the diverse perspectives of the profession."
Winner Sowmya Singh comments: "While the competition made us grow academically, the trip to the University exposed us to the scope of this field and the role of architects in building the future. And of course, both the competition and the trip were a lot of fun!"
Competition winners
College: Chandigarh College of Architecture
Students: Ankita Thakur, Gunmeet Singh Grewal, Ishita Bhatnagar, Sowmya Singh
Commended
College: Jamia Milllia Islamia, New Delhi
Students: Aditi Verma, Bhrigu Chandra Kalia
Commended
College: School of Planning and Architecture, Bhopal
Students: Devvrat Chowdhary, Noel Woodward, Siddharth, AAyush Jindal
Shortlisted
College: National Institute of Technology Kozhikode, Kerala, India
Students: Harikrishnan.K.M, A V Venugopal, Sruthy P, Vineeth A C
Shortlisted
College: Faculty of Architecture, G.B.T.U, Lucknow
Students: Tanveer Alam, Nandini Shandilya, Rhicha Shukla, Pavnesh Kumar
Shortlisted
College: Adhiyamaan College of Engineering
Students: Arumugham Kalyanasundaram, Jose Sibi, Suresh Pandiyan
The competition was initiated and organised by staff from the University of Westminster's Department of Planning and Transport: Ripin Kalra, Tony Lloyd Jones and Darshana Chauhan.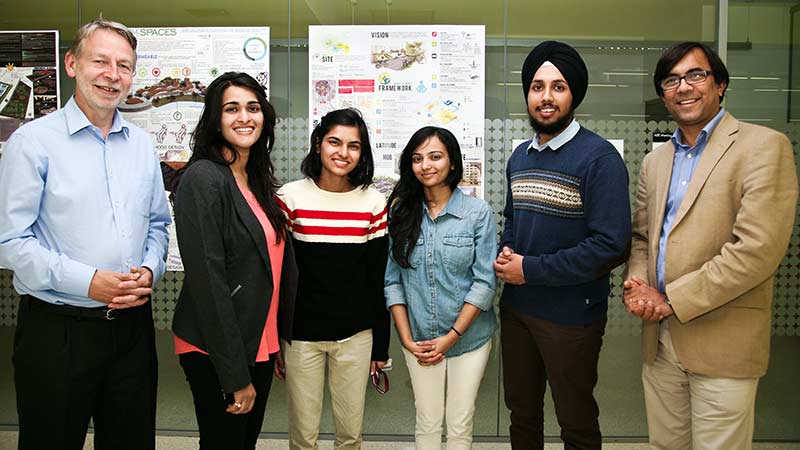 International Design Competition Winners with Tim Edmundson, Head of Department of Planning and Transport, and Ripin Kalra, Senior Research Fellow. Photo © Joanne O'Brien.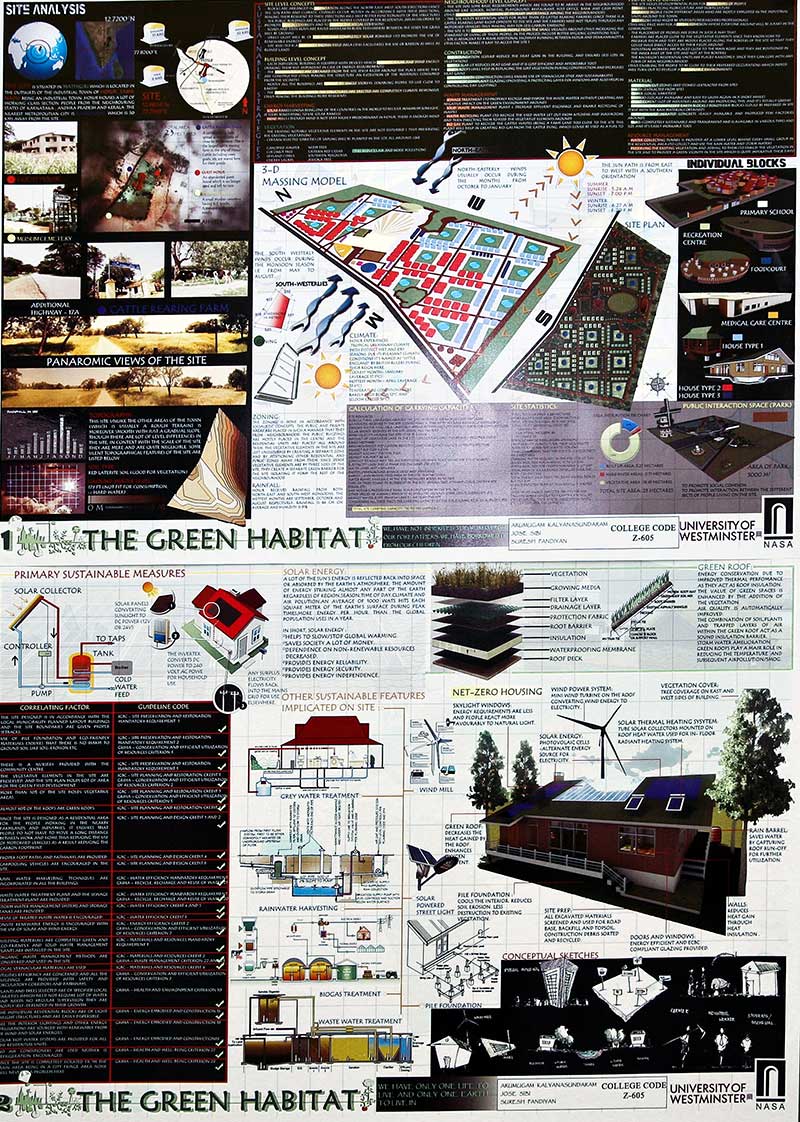 One of the displays from the winning entry, from Chandigarh College of Architecture. Photo © Joanne O'Brien.
---
About the University of Westminster:
The University of Westminster boasts a vibrant learning environment attracting more than 20,000 students from over 150 nations and we continue to invest in our future with new developments, research projects and new ideas.
We offer highly attractive practice-based courses that are independently rated as excellent, many with international recognition. Our distinguished 180-year history has meant we lead the way in many areas of research, particularly politics, media, art and design, architecture and biomedical sciences, and our position in the city of London allows us to continue to build on our close connections with leading figures and organisations in these areas as well as in the worlds of business, information technology, politics and law.
Our commitment to educating graduates for the needs of professional life attracts high quality students from within the UK and around the globe.
Internationalisation, employability and sustainability are key elements in the University of Westminster's vision for the future and we strive to ensure the very highest standards are met and maintained.
Here we hope you find everything you will need to research, write and publish your story or blog post.