University of Westminster hosts African Film and Politics Conference
28 October 2013
Hosted by the University's Africa Media Centre in association with the Royal African Society's FILM AFRICA, the conference will take place on Saturday, 9 November and Sunday, 10 November 2013 at the University of Westminster, 309 Regent Street, London.
The two-day conference will be focused on debating the evolving issues of politics, ideology, power and diversity in the dynamic African film industry. Participants will examine how politics relates to generational, gender, ethnic, racial and language issues in African films though a series of presentations and film screenings.
Jane Thorburn, African Film specialist and Principal Lecturer and Course Leader for BA Television Production at the University of Westminster, says: "The Annual African Film Conference at the University of Westminster provides a great opportunity for hearing about the latest in production from all over Africa and for networking with people from other countries who share an interest in African Media and the debates that surround it. "
Speakers include:
 
Jean-Pierre Bekolo, an award winning film director, writer, artist, professor and social activist who has been making films about his native Cameroon for the past twenty years. His imaginative work criticizes both his country's dictatorship as well as Western cinematic conventions. Bekolo's latest film 'The President', a satire that questions his country's catastrophic experiments with democracy, will form the case study for his talk about making movies from a mental and physical place. 'The President' will be screened on Sunday, 10 November followed by a Q&A session.
 
Imruh Bakari, a writer, academic and filmmaker born in Saint Christopher Island in the West Indies. His films include African Tales – Short Film Series (2005/ 2008), Blue Notes and Exiled Voices (1991), The Mark of the Hand (1986) and Riots and Rumours of Riots (1981). From 1999 to 2004 he was Festival Director of the Zanzibar International Film Festival. He is a Senior Lecturer in Film and Media Studies at the University of Winchester.
 
Daniela Ricci, an academic and filmmaker. Her latest film 'Creation in Exile' features five major African filmmakers in 'exile', following their personal and artistic paths from Paris to Washington, from Ouagadougou to London, via Uppsala in search of harmony between different cultures.
Other topics to be covered will also include:
Political history, myth and identity in African film;
Racial, class, religious and ethnic politics in African film;
Gender and sexual politics in African cinema;
Audiences and the reception of politics in African films;
Indigenous language films and everyday politics;
Power politics and crises in African Cinema;
Filmmakers exiled or imprisoned for their work.
The University of Westminster's Africa Media Centre was established in January 2009 to promote and disseminate research on communication, film, television, radio, internet, journalism, and social change in Africa.
For further information and schedule of the conference, please visit the website: /research/a-z/camri/events/camri-events-calendar/2013/african-film-and-politics-conference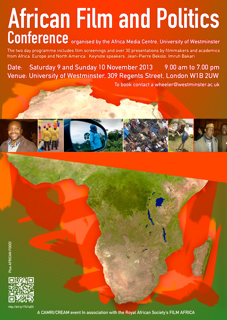 Venue
University of Westminster,
309 Regent Street,
London
W1B 2UW
For media passes and further information on the conference, please contact:

Sarah Evans-Toyne, Lianne Robinson or Chiara Barreca
Broadgate Mainland
Email: [email protected]
Telephone: +44(0) 20 7726 6111
---
About the University of Westminster:
The University of Westminster boasts a vibrant learning environment attracting more than 20,000 students from over 150 nations and we continue to invest in our future with new developments, research projects and new ideas.
We offer highly attractive practice-based courses that are independently rated as excellent, many with international recognition. Our distinguished 180-year history has meant we lead the way in many areas of research, particularly politics, media, art and design, architecture and biomedical sciences, and our position in the city of London allows us to continue to build on our close connections with leading figures and organisations in these areas as well as in the worlds of business, information technology, politics and law.
Our commitment to educating graduates for the needs of professional life attracts high quality students from within the UK and around the globe.
Internationalisation, employability and sustainability are key elements in the University of Westminster's vision for the future and we strive to ensure the very highest standards are met and maintained.
Here we hope you find everything you will need to research, write and publish your story or blog post.