Riah builds on her success
Property and Construction
31 July 2013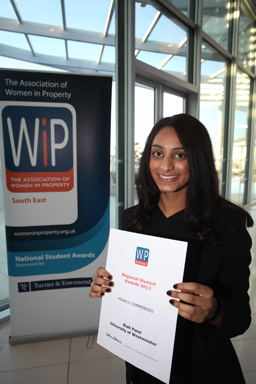 Real Estate BSc Honours student Riah received a 'highly commended' in the South East region final of the Women in Property (WIP) National Student Awards. Now she wants to build on that.
Universities are invited to nominate a second year student studying on a built environment course for the awards and Riah was put forward. Judges were impressed by her presentation and knowledge on legal studies and tort law, with one - Bouygues, an internationally recognised French construction company establishing itself in the UK – even offering her an internship.
"This commendation has opened up possibilities in terms of career prospects for me and made me so much more employable," says a thrilled Riah, who also secured an internship at Savills, a leading UK property company. "These opportunities have enabled me to gain a better understanding of the differences and similarities between the property and construction industries, and I have been able to work closely with industry professionals.
"Staff at Westminster have been phenomenal. I have a good rapport and relationship with the lecturers who are hands on. The commendation has given me a lot of confidence. The opportunities have made me more enthusiastic about making the most of my time at university. I have more of a drive to succeed and am more passionate."
WIP is a national organisation that seeks to enhance the profile of women in the property and construction industry, providing a forum for business opportunities, exchanging views, networking and encouraging aspiring talent.
Jane Wright, Head of Department of Property and Construction at Westminster, has been involved with WIP for a number of years. "Apart from what we think of as 'property and construction' professions, WIP includes lawyers, accountants and engineers who are involved in the industry," explained Jane.
"WIP offers a fantastic opportunity to explore potential future careers, work placements and generally get to know employers. WIP also run a well-established mentoring scheme which can help young women take advantage of every opportunity and help create new ones!"
A comment Riah definitely agrees with. "Before I wanted to concentrate on the valuation and legal aspects, but now I have been presented with a variety of different opportunities. I am very lucky to have been given this opportunity."
---
About the University of Westminster:
The University of Westminster boasts a vibrant learning environment attracting more than 20,000 students from over 150 nations and we continue to invest in our future with new developments, research projects and new ideas.
We offer highly attractive practice-based courses that are independently rated as excellent, many with international recognition. Our distinguished 180-year history has meant we lead the way in many areas of research, particularly politics, media, art and design, architecture and biomedical sciences, and our position in the city of London allows us to continue to build on our close connections with leading figures and organisations in these areas as well as in the worlds of business, information technology, politics and law.
Our commitment to educating graduates for the needs of professional life attracts high quality students from within the UK and around the globe.
Internationalisation, employability and sustainability are key elements in the University of Westminster's vision for the future and we strive to ensure the very highest standards are met and maintained.
Here we hope you find everything you will need to research, write and publish your story or blog post.