New book takes a closer look at the daily lives and experiences of Europe's Muslims
12 December 2013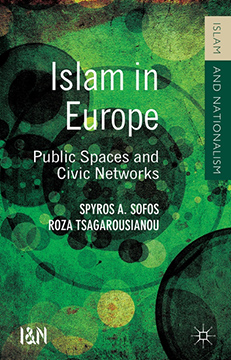 Islam in Europe: Public Spaces and Civic Networks is the product of six years of research among Muslim communities in Belgium, France, Germany, the Netherlands and the UK and draws upon extensive fieldwork and interviews with 735 informants from all walks of life.
Instead of positing particular definitions what it means to be Muslim, the authors invited and encouraged informants to reflect on who they are and on the meaning and place Islam has in their lives. A wealth of information relating to daily practices at home, in the neighbourhood and the workplace, inside and outside the mosque, to watching movies, playing videogames, seeking the advice of agony aunts, looking for "Mr or Mrs Right", marvelling at jihadi videos reveals the fascinating and complex ways in which European Muslims construct notions or identity, agency, solidarity and belonging, or how they negotiate and redefine religion, tradition, authority and cultural authenticity.
The book, says Professor Jørgen S. Nielsen of the Center for European Islamic Thought, University of Copenhagen, constitutes" a valuable pointer to future lines of research" as it takes the reader "beyond analysis of society and politics. Its focus is the complex and tense field of the conceptual: in what ways are Muslims in Europe European Muslims; what do events and related discourses do to affect the formation of European Muslim identities?"
---
About the University of Westminster:
The University of Westminster boasts a vibrant learning environment attracting more than 20,000 students from over 150 nations and we continue to invest in our future with new developments, research projects and new ideas.
We offer highly attractive practice-based courses that are independently rated as excellent, many with international recognition. Our distinguished 180-year history has meant we lead the way in many areas of research, particularly politics, media, art and design, architecture and biomedical sciences, and our position in the city of London allows us to continue to build on our close connections with leading figures and organisations in these areas as well as in the worlds of business, information technology, politics and law.
Our commitment to educating graduates for the needs of professional life attracts high quality students from within the UK and around the globe.
Internationalisation, employability and sustainability are key elements in the University of Westminster's vision for the future and we strive to ensure the very highest standards are met and maintained.
Here we hope you find everything you will need to research, write and publish your story or blog post.