Literature and radio meet in new book from Amanda Wrigley
17 December 2013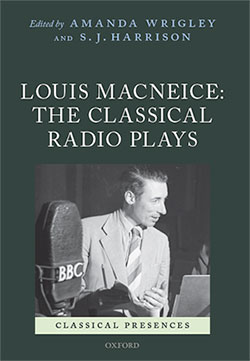 The book, published by Oxford University Press, presents eleven radio scripts written and produced by the poet and writer Louis MacNeice (1907-63) over the span of his twenty-year career at the BBC, during which he wrote and produced well over a hundred radio scripts on an impressively wide variety of subjects.
These scripts, all but one of which is published for the first time, illustrate the various ways that MacNeice re-worked one particular and recurrent source of material for radio broadcast - ancient Greek and Roman history and literature. The volume thus seeks to explore MacNeice's literary relationship with classical antiquity, including engagements with authors such as Homer, Thucydides, Aristophanes, Xenophon, Petronius, Apuleius, and Horace, in a variety of types of programmes from wartime propaganda work, which used ancient Greek history to comment on the international situation, to lighter entertainment programmes drawing on the Roman novel. MacNeice's educational background in classics, combined with his skill as a writer and his ability in exploring radio's potential for creative work, resulted in programmes which brought the ancient world imaginatively alive for a massive, popular audience at home and abroad.
Each script is prefaced by an individual introduction, written by the editors and guest contributor Gonda Van Steen, detailing the political and broadcasting contexts, the relationship of the script with classical antiquity, notes on cast and credits, and the reception of each script's radio performance among contemporary listeners. The volume opens with a general introduction by Amanda Wrigley (titled 'Louis MacNeice, Classical Antiquity, and BBC Radio: From Wartime Propaganda to Radio Plays') which seeks to contextualise the scripts in MacNeice's wider life and work for radio. The volume includes an appendix of extant MacNeicean scripts and recordings which is designed to encourage further studies of MacNeice's radio oeuvre.
View further information about the book.
---
About the University of Westminster:
The University of Westminster boasts a vibrant learning environment attracting more than 20,000 students from over 150 nations and we continue to invest in our future with new developments, research projects and new ideas.
We offer highly attractive practice-based courses that are independently rated as excellent, many with international recognition. Our distinguished 180-year history has meant we lead the way in many areas of research, particularly politics, media, art and design, architecture and biomedical sciences, and our position in the city of London allows us to continue to build on our close connections with leading figures and organisations in these areas as well as in the worlds of business, information technology, politics and law.
Our commitment to educating graduates for the needs of professional life attracts high quality students from within the UK and around the globe.
Internationalisation, employability and sustainability are key elements in the University of Westminster's vision for the future and we strive to ensure the very highest standards are met and maintained.
Here we hope you find everything you will need to research, write and publish your story or blog post.