Building links with Kwame Nkrumah University of Science and Technology (KNUST), Kumasi, Ghana
Biomedical Sciences
31 July 2013
There is an ongoing collaboration between University of Westminster and Kwame Nkrumah University of Science and Technology (KNUST), Kumasi, Ghana where Clement has a lead role in the Department of Biomedicine.
A Memorandum of Understanding was signed in the summer of 2013 when Professor John Appiah-Poku, Dean of KNUST, visited the University of Westminster, with the expectation of building further research collaborations in the future.
Opoku-Okrah C, Gordge M, Kweku Nakua E, Agbenyega T, Parry M, Robertson C, Smith CL. An investigation of the protective effect of alpha+-thalassaemia against severe Plasmodium falciparum amongst children in Kumasi, Ghana. Int J Lab Hematol. 2013 Jul 10. doi: 10.1111/ijlh.12122. [Epub ahead of print] http://onlinelibrary.wiley.com/doi/10.1111/ijlh.12122/full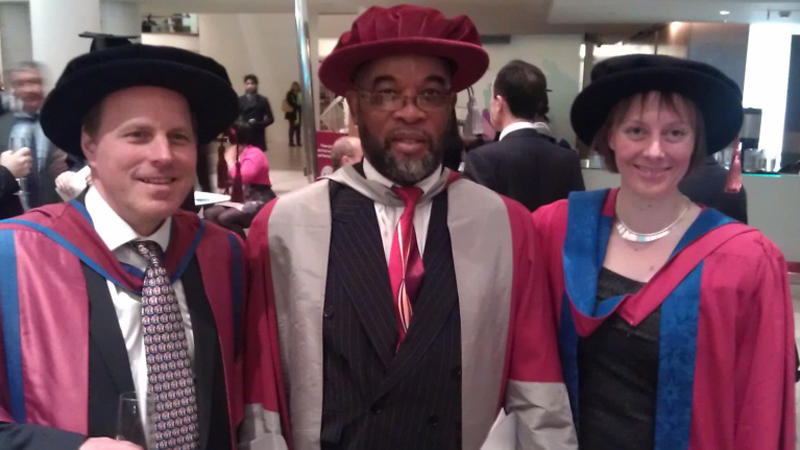 Clement with part of the supervisory team: Left to right Mike Gordge, Clement Opoku-Okrah & Caroline Smith.
---
About the University of Westminster:
The University of Westminster boasts a vibrant learning environment attracting more than 20,000 students from over 150 nations and we continue to invest in our future with new developments, research projects and new ideas.
We offer highly attractive practice-based courses that are independently rated as excellent, many with international recognition. Our distinguished 180-year history has meant we lead the way in many areas of research, particularly politics, media, art and design, architecture and biomedical sciences, and our position in the city of London allows us to continue to build on our close connections with leading figures and organisations in these areas as well as in the worlds of business, information technology, politics and law.
Our commitment to educating graduates for the needs of professional life attracts high quality students from within the UK and around the globe.
Internationalisation, employability and sustainability are key elements in the University of Westminster's vision for the future and we strive to ensure the very highest standards are met and maintained.
Here we hope you find everything you will need to research, write and publish your story or blog post.