Westminster Creative Computing exhibits at Museums Heritage Show 2012
22 May 2012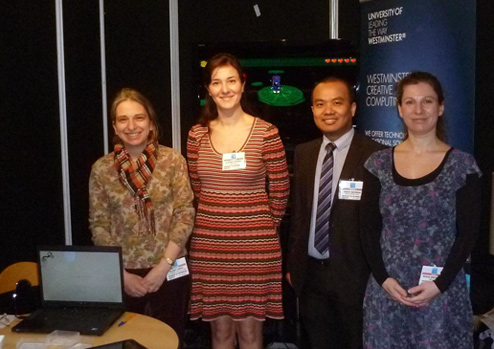 For an introduction to Westminster Creative Computing (WCC) and details on current projects please see the materials below.
About the event:
M+H 2012 is the 20th anniversary show which is widely regarded as the principal buying opportunity for museum, gallery and heritage visitor attraction operators. Main attendees in the event are buyers and decision makers from - museums, galleries, historic houses, cathedrals, heritage visitor attractions, libraries, zoos, gardens and cultural and government organisations and associations from the UK and overseas.
Visit the Museums and Heritage website for more information
About the team:

The Westminster Creative Computing (WCC) at the University of Westminster offers technology and educational solutions for the cultural heritage, tourism, and creative industries. WCC has undertaken extensive research projects and consultancy services for other academic research bodies and industry partners across the world in image analysis, augmented reality requirements engineering, semantic computing, pervasive media and the development of social interactive technologies for mobile platforms.
---
About the University of Westminster:
The University of Westminster boasts a vibrant learning environment attracting more than 20,000 students from over 150 nations and we continue to invest in our future with new developments, research projects and new ideas.
We offer highly attractive practice-based courses that are independently rated as excellent, many with international recognition. Our distinguished 180-year history has meant we lead the way in many areas of research, particularly politics, media, art and design, architecture and biomedical sciences, and our position in the city of London allows us to continue to build on our close connections with leading figures and organisations in these areas as well as in the worlds of business, information technology, politics and law.
Our commitment to educating graduates for the needs of professional life attracts high quality students from within the UK and around the globe.
Internationalisation, employability and sustainability are key elements in the University of Westminster's vision for the future and we strive to ensure the very highest standards are met and maintained.
Here we hope you find everything you will need to research, write and publish your story or blog post.