Exclusive preview of 'The Beautiful Game', directed by Victor Buhler
6 March 2012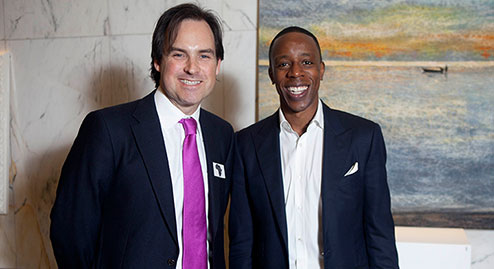 Left to right: Victor Buhler and Kojo Annan.
On Thursday 1 March, leading independent film director and University of Westminster postgraduate student, Victor Buhler, held an exclusive screening of his new film, The Beautiful Game, which was produced in conjunction with and attended by Kojo Annan, former UN Secretary-General Kofi Annan's son, and hosted at the University of Westminster's historic cinema located in the heart of London's West End.
The Beautiful Game is a character-based feature documentary featuring some of Africa's greatest leaders including Kofi Annan, Archbishop Desmond Tutu, FW deKlerk, along with football manager, Jose Mourinho and famous footballers Jay-Jay Okocha, Steven Pienaar, the Touré Brothers, Sulley Muntari, and Roger Milla to name just a few.
The film portrays the inspirational power of soccer in modern-day Africa — a game that is helping to change the lives of individuals and communities across the continent for players, fans, young, old, with or without a disability, male and female. It interweaves a number of dynamic stories from six African countries: Kenya, Egypt, South Africa, Nigeria, Ghana, and the Ivory Coast. Together these stories reveal how soccer can be an effective social and developmental tool and how the game can play a crucial role in shaping a new future for Africa.
Victor Buhler is currently a student on the Entertainment Law LLM course at the University of Westminster, and an acclaimed writer and director. Victor has been encouraged by the Centre of Law and Popular Culture at the University of Westminster Law School to host the evening and to combine his studies with his highly successful career as film director. The Entertainment Law LLM has been running at Westminster's school of Law since 1999 and is currently the only course of its type in the UK.
Victor Buhler, director of The Beautiful Game and an LLM student at the University of Westminster, said: "In Africa, soccer brings 54 diverse countries into a common and passionate dialogue with tangible results. When an African country does well at a competition, its national GDP rises, its exports go up, crime decreases, and political divides narrow. We hope to show audiences a vision of an Africa that is too rarely seen: an Africa that is ambitious, resourceful and united. While there are challenging scenes in the film, our overall message is positive."
Kofi Annan, former UN secretary-general, said: "Football has a uniting capacity for an Africa that has been divided in many ways. To have something that brings us together, unites us, across generations, across culture, is an exciting thing.
"To play football effectively and successfully, you need to acquire certain skills. One is to play as a team, to learn to play as a team. You also learn to accept the rules of the game, and you need to learn to accept decisions of the referee. These are all skills that are necessary in nation-building. I learned some of these things on the pitch as a boy, and these lessons have stayed with me all the way through."
The Beautiful Game showcases the spirit of Africa through music, imagery and soccer.  Four years in the making, the "The Beautiful Game" team has travelled across the continent collecting unique and inspiring stories about soccer and looking at how deeply a sport can impact and unite a continent.
The screening was held at the University of Westminster Cinema, a landmark venue in British Cinema history. The university has recently launched a major £5 million fundraising campaign to raise the funds to bring the birthplace of British cinema back to its former glory.
The event supports one of the films key charity partners: the Right to Dream Academy in Ghana, an organisation that nurtures young underprivileged talent in Africa. Through their elite training programmes, international education, personal development and leadership philosophy they nurture talent into future role models for Africa.
For further information, please contact:
Sarah Evans-Toyne, Lianne Robinson or Emily Warburton-Brown
Broadgate Mainland
Email: [email protected]
Telephone: +44(0) 20 7726 6111
Notes to Editors:
Victor Buhler
Victor Buhler has made award-winning documentary and fiction films. His documentaries include "Rikers High" - which was nominated for an Emmy and won at the Tribeca Film Festival – as well as the upcoming "A Whole Lott More". Victor has also written and directed television drama in the US and in the UK: for MTV, 20th Century Fox, the BBC and Channel 4 UK. He directed the series "Sirens" which debuted in the UK in 2011. Victor is currently studying LLM Entertainment Law at the University of Westminster.
University of Westminster Cinema
Known as the Birthplace of British Cinema and located in the heart of London's West-End, the University of Westminster Cinema was the venue chosen by the Lumière Brothers in 1896 to show the first ever screening of moving images in Britain. The University is seeking to raise £5 million to restore the cinema to its former glory, evoking its 19th century heritage while looking to the future.
Once completed, this iconic venue for the British Film industry will house a state-of-the-art auditorium, and provide a place for learning, cultural exchange and exhibitions as well as giving the film students from the university the unique opportunity to showcase their work in the heart of London's vibrant west-end, which is something that no offer university can offer.
The University of Westminster film and television course is among the best in the world, with an international reputation for academic and practical teaching and was the first course of its kind in the UK to be awarded degree status. The University also boasts a prestigious list of Oscar winning alumni, including Michael Winterbottom (Jude, 9 Songs, The Killer Inside Me), Asif Kapadia (Senna, The Warrior, Far North), cinematographer Seamus McGarvey (Atonement, We Need To Talk About Kevin, The Avengers), editors Andrew Parker (East Is East, Calendar Girls), Lucia Zucchetti (The Rat Catcher, Merchant Of Venice, The Queen); writers Tony Grisoni (Fear And Loathing In Las Vegas, Red Riding,) and Neal Purvis (Skyfall (Bond 2012), Johnny English Reborn, Let Him Have It).
To date the University of Westminster has raised nearly half of the £5 million required to bring this project to completion and bring the birthplace of British Cinema back to life. It has already received substantial development funds from the Heritage Lottery Fund (HLF) and a 'green light' for just under £1m towards the project*. Generous contributions have also been made by the MBI Al Jaber Foundation and the Quintin Hogg Trust. The campaign is now being stepped up a gear to raise the remainder of the £5 million needed.
---
About the University of Westminster:
The University of Westminster boasts a vibrant learning environment attracting more than 20,000 students from over 150 nations and we continue to invest in our future with new developments, research projects and new ideas.
We offer highly attractive practice-based courses that are independently rated as excellent, many with international recognition. Our distinguished 180-year history has meant we lead the way in many areas of research, particularly politics, media, art and design, architecture and biomedical sciences, and our position in the city of London allows us to continue to build on our close connections with leading figures and organisations in these areas as well as in the worlds of business, information technology, politics and law.
Our commitment to educating graduates for the needs of professional life attracts high quality students from within the UK and around the globe.
Internationalisation, employability and sustainability are key elements in the University of Westminster's vision for the future and we strive to ensure the very highest standards are met and maintained.
Here we hope you find everything you will need to research, write and publish your story or blog post.