Westminster's new talent joins the legends at London Fashion Week
9 September 2011
Eleanor Amoroso, who graduated in 2010, will be displaying her spring/summer 2012 womenswear range at BLOW Presents.
She launched her first label last season after attracting attention for her handcrafted graduate spring/summer collection in 2011.
Since then she has gone from strength to strength with her work being described as a 'commemoration of the forgotten art of craftsmanship', which combines modern elegance with a tough, darker side.
Kate Wallis and Parsha Gerayesh, graduates from the Fashion Design BA Hons course in 2011, will also be taking part in Fashion Week by presenting a selection of their designs at the Vauxhall Fashion Scout graduate showcase.
Andrew Groves, course director of the University's Fashion Design BA Hons, said: "These graduates all showed great creativity during their time at Westminster and being offered the chance to showcase their collections at one of the most prestigious events in the fashion industry is a clear recognition of their talent."
For further information, please contact:
Sarah Evans-Toyne, Melanie Bradley or Lianne Robinson
Broadgate Mainland
Email: [email protected]
Telephone: +44(0) 20 7726 6111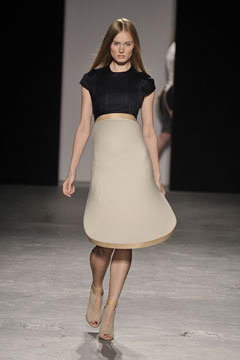 Parsha Gerayesh outfit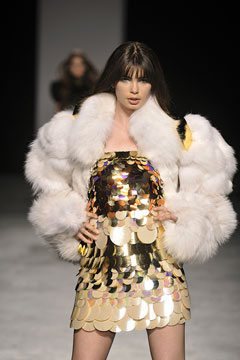 Kate Wallis outfit
---
About the University of Westminster:
The University of Westminster boasts a vibrant learning environment attracting more than 20,000 students from over 150 nations and we continue to invest in our future with new developments, research projects and new ideas.
We offer highly attractive practice-based courses that are independently rated as excellent, many with international recognition. Our distinguished 180-year history has meant we lead the way in many areas of research, particularly politics, media, art and design, architecture and biomedical sciences, and our position in the city of London allows us to continue to build on our close connections with leading figures and organisations in these areas as well as in the worlds of business, information technology, politics and law.
Our commitment to educating graduates for the needs of professional life attracts high quality students from within the UK and around the globe.
Internationalisation, employability and sustainability are key elements in the University of Westminster's vision for the future and we strive to ensure the very highest standards are met and maintained.
Here we hope you find everything you will need to research, write and publish your story or blog post.