Success at national negotiating competition for law students
17 February 2011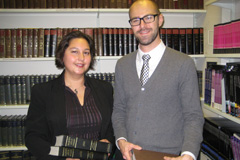 Teams of Westminster students took part in the regional finals of the National Negotiating Competition in Birmingham. A total of 16 teams were competing so congratulations to Zee Gaines (GDL) and Martin Cubasch (LLB Commercial Law) who won the event.
Leicester University were second and Bristol University finished third. Mona Muenning and Hannes Lenk (both LLB European Legal Studies) also did very well but did not make the top three ranking required to qualify.
Zee and Martin now go on to the finals at the beginning on April in London. The teams were coached by Graham Robson.
---
About the University of Westminster:
The University of Westminster boasts a vibrant learning environment attracting more than 20,000 students from over 150 nations and we continue to invest in our future with new developments, research projects and new ideas.
We offer highly attractive practice-based courses that are independently rated as excellent, many with international recognition. Our distinguished 180-year history has meant we lead the way in many areas of research, particularly politics, media, art and design, architecture and biomedical sciences, and our position in the city of London allows us to continue to build on our close connections with leading figures and organisations in these areas as well as in the worlds of business, information technology, politics and law.
Our commitment to educating graduates for the needs of professional life attracts high quality students from within the UK and around the globe.
Internationalisation, employability and sustainability are key elements in the University of Westminster's vision for the future and we strive to ensure the very highest standards are met and maintained.
Here we hope you find everything you will need to research, write and publish your story or blog post.