South East Artists' brush with success in Lloyds TSB Commercial Finance competition
10 March 2011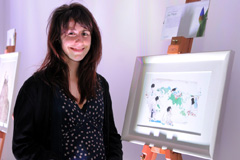 Now in its fifth year, and open to graduates for the first time, Art of Nurture is designed to support and encourage UK artistic talent. The competition has been developed in partnership with Arts & Business, a national not-for-profit arts agency.
Announced last night at the Delfina Gallery, London, Dawon Kim and Christine Lim of Central St Martins, were student winners, with Joey Marsh, a graduate from the University of Westminster and now an illustrator and Chengsi Lu, a freelance illustrator and previously of the Camberwell College of Arts, scooping the South East graduate prize.
The winners will now go head-to-head at the national final for a chance to see their work used in a national Lloyds TSB Commercial Finance advertising campaign and secure a paid work placement with a leading creative agency.
Last night's final was judged by Benjamin Cohen, a finalist in Channel 4's Saatchi's Best of British and a celebrated figurative painter, and Harriet Godwin, curator of Modern and Contemporary Art at Norwich Castle Museum and Art Gallery.
All the art reflects Lloyds TSB Commercial Finance's core values of success, simplicity, knowledge, ownership and its commitment to going the extra mile.
Christine Lim, 22, and originally from Steyning, West Sussex, said: "Working to the creative brief has been useful in honing my commercial art skills and hopefully these will greatly assist me with my future career."
Roger Brown, regional director, London, Lloyds TSB Commercial Finance, said: "Art of Nurture is a fantastic competition which promotes the importance of encouraging and supporting young artistic talent in this country.
"Through the Lloyds TSB Commercial Finance's advertising campaign, these students and graduates may have a valuable opportunity to showcase their work.
"This year's entries were of a high calibre, with over 500 coming in from across the country."
The winners will have their work exhibited at the national finals at the Victoria and Albert Museum on 6 April. A prestigious panel will judge the competition, including Jonny Hannah, the award-winning illustrator, whose work has featured in Vogue and The New York Times and Arts & Business chief executive, Colin Tweedy.
Read more about Art of Nurture here, or visit their Twitter and Facebook sites.
---
About the University of Westminster:
The University of Westminster boasts a vibrant learning environment attracting more than 20,000 students from over 150 nations and we continue to invest in our future with new developments, research projects and new ideas.
We offer highly attractive practice-based courses that are independently rated as excellent, many with international recognition. Our distinguished 180-year history has meant we lead the way in many areas of research, particularly politics, media, art and design, architecture and biomedical sciences, and our position in the city of London allows us to continue to build on our close connections with leading figures and organisations in these areas as well as in the worlds of business, information technology, politics and law.
Our commitment to educating graduates for the needs of professional life attracts high quality students from within the UK and around the globe.
Internationalisation, employability and sustainability are key elements in the University of Westminster's vision for the future and we strive to ensure the very highest standards are met and maintained.
Here we hope you find everything you will need to research, write and publish your story or blog post.