Masters in Journalism students received a boost to their work when multimedia and mobile experts dropped into their lectures
3 March 2011
He also delivered a performance lecture which examined the future of the web and mobile phones. Mr Elia, a 20-year veteran at Reuters is responsible for pioneering journalists adopting digital mobile technology to push content.
Mediastorm
Later in the day, the founder of arguably one of the best multimedia agencies in the world Mediastorm, made an appearance by skyping into lectures.
Students had a Q&A lasting just under an hour, in which founder Brian Storm gave answers to his philosophy, how to intern with his company and what he was looking for from would-be multimedia journalists.
"I would say, Passion, Passion, Passion" he said is the key, urging students to seek to innovate and change the status quo.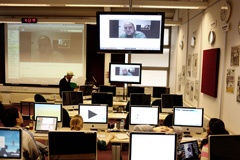 The University of Westminster's Online Masters students are presently 6 weeks into a 12-week module learning everything from building a site from scratch using CSS, HTML and Flash, experimenting with Java script, and SEO.
Students call it going down the "rabbit hole", as it involves evolving forms of journalism and an experience that according to MAJI student Avinash Kalla, "the intensity and team work is awesome but its great fun".
Photos courtesy of Valeria Testagrossa
---
About the University of Westminster:
The University of Westminster boasts a vibrant learning environment attracting more than 20,000 students from over 150 nations and we continue to invest in our future with new developments, research projects and new ideas.
We offer highly attractive practice-based courses that are independently rated as excellent, many with international recognition. Our distinguished 180-year history has meant we lead the way in many areas of research, particularly politics, media, art and design, architecture and biomedical sciences, and our position in the city of London allows us to continue to build on our close connections with leading figures and organisations in these areas as well as in the worlds of business, information technology, politics and law.
Our commitment to educating graduates for the needs of professional life attracts high quality students from within the UK and around the globe.
Internationalisation, employability and sustainability are key elements in the University of Westminster's vision for the future and we strive to ensure the very highest standards are met and maintained.
Here we hope you find everything you will need to research, write and publish your story or blog post.