MAD for an Education in PR?
9 November 2011
 Professor Trevor Morris from University of Westminster - co-author of PR Today -, who chaired the debate, told the audience that PR will become more and more professional but will never be a closed entry profession as this would be undemocratic, restricting who could speak to the media.
Sally Costerton, chairman and CEO of Hill and Knowlton and one of the most powerful women in PR, discussed how mobile broadband was causing the 'democratisation of everything' and reshaping the PR landscape.
And Cathy Bussey, deputy editor of PR Week, the PR bible, warned the student audience that research shows that long hours are the bane of those working in the industry.
Introduced by Sally Feldman, dean of the School of Media, Arts and Design (MAD), and held to launch the Public Relations Consultants Association's (PRCA) 'Partnership with Universities' initiative, the debate also covered issues as wide ranging as the attitude of PR employers to PR degrees and the global shift in PR power from the north to the south and from the east to the west.
Underlining Westminster's leading position in the study of PR, the Old Cinema at Regent Street has become a regular venue for debates, public lectures and other PR industry events, leading to it being described by some as 'the lecture theatre and debating chamber of the UK's PR industry'.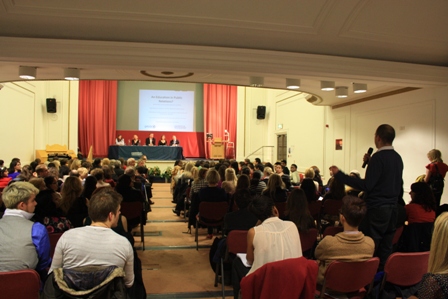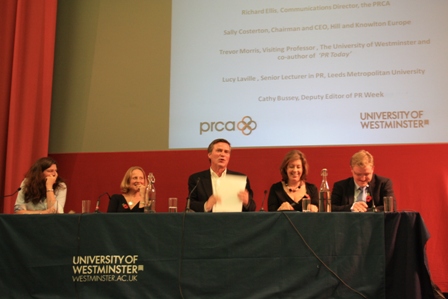 ---
About the University of Westminster:
The University of Westminster boasts a vibrant learning environment attracting more than 20,000 students from over 150 nations and we continue to invest in our future with new developments, research projects and new ideas.
We offer highly attractive practice-based courses that are independently rated as excellent, many with international recognition. Our distinguished 180-year history has meant we lead the way in many areas of research, particularly politics, media, art and design, architecture and biomedical sciences, and our position in the city of London allows us to continue to build on our close connections with leading figures and organisations in these areas as well as in the worlds of business, information technology, politics and law.
Our commitment to educating graduates for the needs of professional life attracts high quality students from within the UK and around the globe.
Internationalisation, employability and sustainability are key elements in the University of Westminster's vision for the future and we strive to ensure the very highest standards are met and maintained.
Here we hope you find everything you will need to research, write and publish your story or blog post.