Lecturer named Law Teacher of the Year
18 February 2011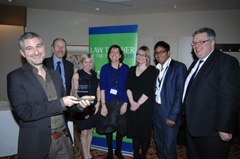 The national award, run in association with the UK Centre for Legal Education (UKCLE) and sponsored by Oxford University Press (OUP), named the University of Westminster professor of law and theory as its Law Teacher of the Year at a ceremony held at UKCLE's annual conference on Friday 28 January 2011.
University of Westminster professor of Law and Theory has been awarded Law Teacher of the Year 2011 for his inspiring and passionate approach to teaching.
Professor Philippopoulos-Mihalopolous was nominated by his students for his effort to improve teaching methods and stimulate student participation through innovative learning methods, including incorporating student presentations, group discussions, games, films, art, poetry and even excursions to galleries.
The national award, from Oxford University Press (OUP), is a prestigious annual prize which aims to celebrate excellence in teaching and recognise the crucial role that law teachers play in the education of tomorrow's lawyers.
The winner is chosen among six shortlisted candidates nominated by their students and judged after a rigorous and lengthy process which consists of interviews, campus visits, observation and filming of teaching sessions. The evidence gathered includes more than 12 hours of audio and video footage which is reviewed independently by judges for the final decision.
Andreas Philippopoulos-Mihalopolous said: "We never really know the impact we have on our students - or perhaps we know and we forget about it over time. Then suddenly something like this happens (being nominated) - people start coming to see you and it's an inspiration."
Professor Andy Boon, Dean of the School of Law, said:
"We pride ourselves on our teaching excellence at the University of Westminster's School of Law. Andreas' award not only marks him out as a teacher of real quality but also shows that good teaching can be successfully combined with a strong commitment to research. We are all immensely proud of Andreas' achievement."
The award was presented at the UK Centre for Legal Education (UKCLE)'s annual conference on Friday 28 January 2011.
For media enquiries please contact:
Mark Knight, Sarah Evans-Toyne or Melanie Bradley at Broadgate Mainland
Email: [email protected]
Telephone: +44(0) 20 7726 6111
---
About the University of Westminster:
The University of Westminster boasts a vibrant learning environment attracting more than 20,000 students from over 150 nations and we continue to invest in our future with new developments, research projects and new ideas.
We offer highly attractive practice-based courses that are independently rated as excellent, many with international recognition. Our distinguished 180-year history has meant we lead the way in many areas of research, particularly politics, media, art and design, architecture and biomedical sciences, and our position in the city of London allows us to continue to build on our close connections with leading figures and organisations in these areas as well as in the worlds of business, information technology, politics and law.
Our commitment to educating graduates for the needs of professional life attracts high quality students from within the UK and around the globe.
Internationalisation, employability and sustainability are key elements in the University of Westminster's vision for the future and we strive to ensure the very highest standards are met and maintained.
Here we hope you find everything you will need to research, write and publish your story or blog post.