History Trip to Northern Ireland
12 April 2011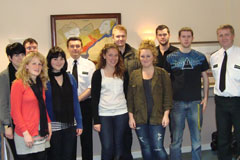 The meeting took place at Strand Road PSNI station in Derry, where students had the chance to discuss the past and present policing situation in the city, with Inspector Andy Archibald (left) and Inspector Alan Hutton (right).  Speaking only three days after the murder of Constable Ronan Kerr, the officers said that morale in the PSNI was good, despite the great sadness they felt at the loss of their colleague. 
The service was more determined than ever to continue its transition since the start of the peace process, to a truly community-based model of policing, in which the service fully represented the society it served.  Students also had the opportunty to meet former members of the Civil Rights movement, and some of those who had become involved in terrorism and who had spent long periods in prison.  They heard that the threat to the peace process from dissident groups was real, and that they had a certain appeal to small groups of disaffected young people.  Nevertheless, the recent desperate events had not precipitated a crisis in Northern Ireland and instead had demonstated unprecedented determination amongst all the political groups not to be dragged back to the dark days of the past.
 
The trip was organised by Dr Martin Doherty and Dr Patrick Smylie of the School of Social Sciences, Humanities and Languages.
---
About the University of Westminster:
The University of Westminster boasts a vibrant learning environment attracting more than 20,000 students from over 150 nations and we continue to invest in our future with new developments, research projects and new ideas.
We offer highly attractive practice-based courses that are independently rated as excellent, many with international recognition. Our distinguished 180-year history has meant we lead the way in many areas of research, particularly politics, media, art and design, architecture and biomedical sciences, and our position in the city of London allows us to continue to build on our close connections with leading figures and organisations in these areas as well as in the worlds of business, information technology, politics and law.
Our commitment to educating graduates for the needs of professional life attracts high quality students from within the UK and around the globe.
Internationalisation, employability and sustainability are key elements in the University of Westminster's vision for the future and we strive to ensure the very highest standards are met and maintained.
Here we hope you find everything you will need to research, write and publish your story or blog post.