Film nominated for Hollywood student academy award
26 May 2011
The Miserables is a heart-wrenching yet uplifting drama centred on the relationship between an old couple, and their struggle to express their feelings for one another when one of them is diagnosed with a terminal illness. The lead characters are beautifully played by British acting heavyweights Ian Hogg (Rockliffes Babies) and Maggie Steed (Jam & Jerusalem).
The film was devised and brought to life by a team of undergraduates on the BA (Hons) Film and TV Production degree, lead by Alex Lipman (writer-producer), Ben Wheatley (director) and Cenay Said (director of photography).
Alex Lipman, producer says: "The whole team involved with The Miserables is absolutely delighted to have been nominated for a Student Academy Award which reflects the hard work we dedicated to this project. We are all amazed to receive this level of recognition from Hollywood, and actually to win the award would be beyond belief!"
Course leader Peter Hort said: "This nomination shows that despite working with less than a fraction of the resources of the big film schools, our students can produce work that genuinely affects and moves audiences. 'The Miserables' is a really mature film, with strong performances and real depth"
The Miserables has already won a number of prestigious industry awards including being named "Best Fiction" at the Royal Television Society Student Awards, "Best Film" at the Screentest National Student Film Festival and winning the Audience Award at the 9th International Film and Video Festival of Beijing 2010.
For further information please contact:
Sarah Evans-Toyne, Melanie Bradley or Lianne Robinson
Broadgate Mainland
Email: [email protected]
Telephone: +44(0) 20 7726 6111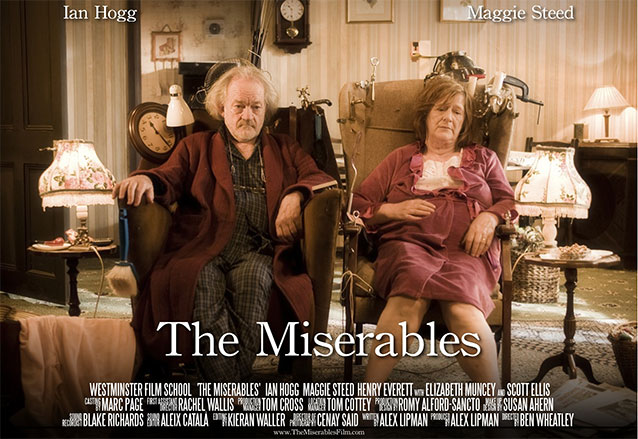 ---
About the University of Westminster:
The University of Westminster boasts a vibrant learning environment attracting more than 20,000 students from over 150 nations and we continue to invest in our future with new developments, research projects and new ideas.
We offer highly attractive practice-based courses that are independently rated as excellent, many with international recognition. Our distinguished 180-year history has meant we lead the way in many areas of research, particularly politics, media, art and design, architecture and biomedical sciences, and our position in the city of London allows us to continue to build on our close connections with leading figures and organisations in these areas as well as in the worlds of business, information technology, politics and law.
Our commitment to educating graduates for the needs of professional life attracts high quality students from within the UK and around the globe.
Internationalisation, employability and sustainability are key elements in the University of Westminster's vision for the future and we strive to ensure the very highest standards are met and maintained.
Here we hope you find everything you will need to research, write and publish your story or blog post.