Chiswick Bulbathon Volunteer Event
7 December 2011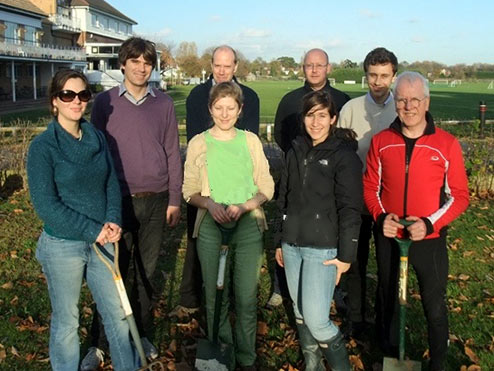 We enjoyed a warm and sunny afternoon for the planting, which we were starting to get used to during this year's mild November.
Volunteers were given a tour of the Chiswick site, where considerable effort has been given to improving the biodiversity and sustainability of the land. We saw the food growing space and the borehole which helps to reduce the mains water used for watering the sports pitches, and heard about some of the many other projects currently underway.
After a delicious lunch of soup made with ingredients from the Chiswick food growing space, we headed out to pick up our tools! Equipped with spades and forks we got through over 2,000 bulbs in record time, enjoying some fresh air and getting to know each other as we planted to the chatter of starlings in the treetops around us.
It was a great afternoon, and we look forward to seeing the bulbs brighten up the landscape in Spring!
Thanks to everyone who was involved for making it such a great day, and to Andy Lucey on behalf of PGSD and PCSO, and Stacey Stirrat on behalf of the Metropolitan Police Chiswick Safer Neighbourhood Team for the donation of the bulbs.
For further information:
If you would like to hear about similar events being organised by the University of Westminster, please email May MacKeith at [email protected] to get involved.
---
About the University of Westminster:
The University of Westminster boasts a vibrant learning environment attracting more than 20,000 students from over 150 nations and we continue to invest in our future with new developments, research projects and new ideas.
We offer highly attractive practice-based courses that are independently rated as excellent, many with international recognition. Our distinguished 180-year history has meant we lead the way in many areas of research, particularly politics, media, art and design, architecture and biomedical sciences, and our position in the city of London allows us to continue to build on our close connections with leading figures and organisations in these areas as well as in the worlds of business, information technology, politics and law.
Our commitment to educating graduates for the needs of professional life attracts high quality students from within the UK and around the globe.
Internationalisation, employability and sustainability are key elements in the University of Westminster's vision for the future and we strive to ensure the very highest standards are met and maintained.
Here we hope you find everything you will need to research, write and publish your story or blog post.