Celebrating Capoeira, healthy lifestyle and well-being
9 September 2011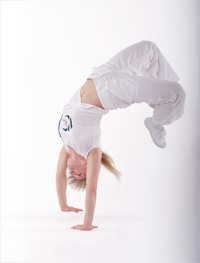 12 June 2011
Capoeira is a Brazilian art form with elements of martial art, dance, music and acrobatics. It was created through the desire for freedom over 400 years ago.
It is a great way of keeping fit, making new friends, finding balance in your life. It is for all, regardless of age, shape, and nationality.
Come and watch the event on 12th June at the Gymnasium and you'll see it for yourself. Students and performers are aged between 6 – 70 and are from various countries and backgrounds.
The event is organised by Capoeira Agora with support from the University of Westminster as part of the University's well-being agenda, along with local businesses interested in promoting well-being.
The event starts at 12:00 noon with the Capoeira Agora 1st Grading Ceremony (Batizado), followed by performances by the Capoeira Agora students and visiting Masters and teachers from Brazil, Spain, The Netherlands and UK.
More information can be found at www.capoeira-agora.com
FREE entry for University of Westminster staff and students. Please book your free entry by registering and have your staff/student card with you on the door. Additional tickets can be purchased via Capoeira Agora's online shop.
For more information, contact Justyna Jozefiak
[email protected]
---
About the University of Westminster:
The University of Westminster boasts a vibrant learning environment attracting more than 20,000 students from over 150 nations and we continue to invest in our future with new developments, research projects and new ideas.
We offer highly attractive practice-based courses that are independently rated as excellent, many with international recognition. Our distinguished 180-year history has meant we lead the way in many areas of research, particularly politics, media, art and design, architecture and biomedical sciences, and our position in the city of London allows us to continue to build on our close connections with leading figures and organisations in these areas as well as in the worlds of business, information technology, politics and law.
Our commitment to educating graduates for the needs of professional life attracts high quality students from within the UK and around the globe.
Internationalisation, employability and sustainability are key elements in the University of Westminster's vision for the future and we strive to ensure the very highest standards are met and maintained.
Here we hope you find everything you will need to research, write and publish your story or blog post.