Alumnus' Sundance-winning film premieres at LIDF opening gala
13 May 2011
Senna charts the physical and spiritual achievements of the driver from his first race in Formula One in 1984 until his tragic death during a race a decade later.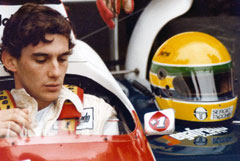 Ayrton Senna
Using stunning footage – much of which has been drawn from previously unseen F1 archives – Senna has been released to great reviews in the driver's Brazilian homeland as well as in Japan. The film was also screened at this year's Sundance Festival, where it won the World Cinema Audience Award for Documentary.
The remarkable Senna is the latest in a series of accolades for Asif, who received a number of awards including two Baftas for his 2002 film The Warrior. But the 39-year-old from Hackney, north London, says directing Senna presented its own unique challenges.
"One was the length," explains Asif, who graduated from his Film, Video and Photographic Arts BA at Westminster in 1994, the same year that Senna died. "There were so many brilliant stories in Senna's life that our biggest problem was what to leave out. The first assembly we screened was five hours long and we spent a couple of years editing it down to 100 minutes.
"All of the interesting stories took place in prep or post-production because of the unique way the film was made. A special moment came when we first screened the locked picture for Senna's family at Cannes in 2010.
"The tension and emotion in the room was unbearable. There were a lot of tears, but Ayrton's sister Viviane said afterwards that we had captured the perfect balance of the genius on the track, and humanity of the man away from it.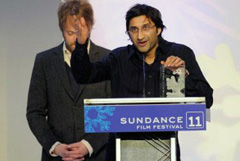 Asif Kapadia
"We've been able to make a film that seems to work for the Formula One fans and the hardcore Senna fans, but also for the people who have assumed all their life that they have no interest in the sport. Because it's about a great character, an amazing, passionate man, who just happens to be a racing driver."
The film was chosen to be the gala opening screening of the prestigious London International Documentary Festival this evening at the Barbican, and will also receive a special preview screening at the British Film Institute on 25 May, followed by a Q&A with Asif. But both these screenings are already fully booked, and film fans will have to wait until 3 June for official UK cinema release.
Senna was written by Manish Pandey and produced by the Working Title Films. Working Title co-founder Tim Bevan, who has worked on some of the biggest British films of the past 25 years including Four Weddings and a Funeral, Shaun of the Dead and Frost/Nixon, believes Senna will be one of the most successful documentary cinema releases. He has recently lent support to the University of Westminster's project to revive the birthplace of British cinema at the University's headquarters building in the heart of London.
Both Kapadia and Bevan have been kind to engage regularly with the University's film students, sharing their professional experiences with new talent emerging from our School of Media, Arts and Design. 
---
About the University of Westminster:
The University of Westminster boasts a vibrant learning environment attracting more than 20,000 students from over 150 nations and we continue to invest in our future with new developments, research projects and new ideas.
We offer highly attractive practice-based courses that are independently rated as excellent, many with international recognition. Our distinguished 180-year history has meant we lead the way in many areas of research, particularly politics, media, art and design, architecture and biomedical sciences, and our position in the city of London allows us to continue to build on our close connections with leading figures and organisations in these areas as well as in the worlds of business, information technology, politics and law.
Our commitment to educating graduates for the needs of professional life attracts high quality students from within the UK and around the globe.
Internationalisation, employability and sustainability are key elements in the University of Westminster's vision for the future and we strive to ensure the very highest standards are met and maintained.
Here we hope you find everything you will need to research, write and publish your story or blog post.