Westminster Student wins prestigous Journalism place
16 November 2010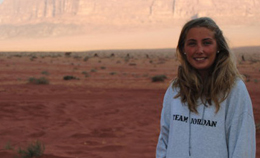 The event, Young Reporters against Poverty, organised by the EU selects 33 young journalists from across the EU's 27 member states.
It says they're chosen by how passionate they are about development issues.
Lucy, a student on the Masters programme at the University of Westminster submitted an essay on Sexual Violence in the Developing World.
In it she detailed the complexity of sexual violence and how the EU's stance offered a solution.
Rising Journalist
Responding to the news of her win, Lucy said:
"This is a really great honour and I am looking forward to working with other people with an interest in the developing world as well as improving my journalistic skills".
Her previous journalistic work has included writing for ROAM– rough guides magazine, Travelmag and South East Asia Backpack magazine.
Before joining the university's course she had been working in Jordan for Care International UK with women and disabled children.
More recently she covered the demonstrations of the National Union of Students campaigning for a review of the government's student fee hike.
The march turned violent. She captured pictures and blogged which ITN, Britain's largest commercial news network showed an interest.
Profiling Development Issues
The EU scheme says it will provide hands-on training about development as well as teach students how to report "live" from the European Development Days (EDD).
The three most successful students will then be given a five-day press visit to one of the European Commission's Delegations in Africa.
---
About the University of Westminster:
The University of Westminster boasts a vibrant learning environment attracting more than 20,000 students from over 150 nations and we continue to invest in our future with new developments, research projects and new ideas.
We offer highly attractive practice-based courses that are independently rated as excellent, many with international recognition. Our distinguished 180-year history has meant we lead the way in many areas of research, particularly politics, media, art and design, architecture and biomedical sciences, and our position in the city of London allows us to continue to build on our close connections with leading figures and organisations in these areas as well as in the worlds of business, information technology, politics and law.
Our commitment to educating graduates for the needs of professional life attracts high quality students from within the UK and around the globe.
Internationalisation, employability and sustainability are key elements in the University of Westminster's vision for the future and we strive to ensure the very highest standards are met and maintained.
Here we hope you find everything you will need to research, write and publish your story or blog post.