Westminster Professor Publishes New Book on the Impact of the "War on Terror" On Government Institutions.
17 June 2010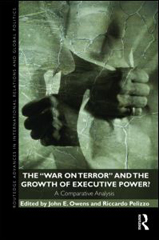 'There is an expectation among most commentators – particularly in the United States, but also in Britain - that the calamity of 9/11 and other terrorist attacks has led inevitably to an acretion of executive power at the expense of parliaments and legislatures. Our study shows this not to be the case. Certainly, this was the pattern in the US, the UK and Russia, but in other political systems, including Australia and Canada – and even in Israel - the pattern was much more nuanced. In Italy, there was no discernible shift in the balance of power while in the Indonesia the effect was to challenge the legitimacy of the country's emerging democratic institutions. As one of the book's reviewers has observed, in many cases, these findings are counter-intuitive.'
The book was published on 23 June 2010 in Routledge's Advances in International Relations and Global Politics series."
---
About the University of Westminster:
The University of Westminster boasts a vibrant learning environment attracting more than 20,000 students from over 150 nations and we continue to invest in our future with new developments, research projects and new ideas.
We offer highly attractive practice-based courses that are independently rated as excellent, many with international recognition. Our distinguished 180-year history has meant we lead the way in many areas of research, particularly politics, media, art and design, architecture and biomedical sciences, and our position in the city of London allows us to continue to build on our close connections with leading figures and organisations in these areas as well as in the worlds of business, information technology, politics and law.
Our commitment to educating graduates for the needs of professional life attracts high quality students from within the UK and around the globe.
Internationalisation, employability and sustainability are key elements in the University of Westminster's vision for the future and we strive to ensure the very highest standards are met and maintained.
Here we hope you find everything you will need to research, write and publish your story or blog post.