University multimedia expert bags an ELTon
12 March 2010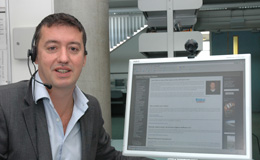 Russell's teachertrainingvideos.com website was picked out by judges at the prestigious ELTons 2010 awards, which are organised by the British Council.
He was the pick of the nominees in the UK Award for Innovation category. Judges commended his website for its commitment to open access, "taking teachers step by step through a whole array of ICT tools, including blogs, wikis, podcasts and much more".
Said Russell: "I'm delighted to win this award as the British Council awards are recognised the world over.
"My motivation has always been to help teachers at all levels make the most of the latest in ICT tools to enable them to make their teaching as interactive as possible."
TTV.com has an average of around 10,000 unique users a month, making it one of the biggest teacher training sites on the internet.
Russell, a principal lecturer within the University's School of Electronics and Computer Science, has won a number of different awards in recent years, including the Times Higher Education Award for Outstanding Initiatives in Information and Communications Technology in 2008.
For more details of the award follow the link: www.britishcouncil.org/learning-eltons-2010-winners-4.htm
---
About the University of Westminster:
The University of Westminster boasts a vibrant learning environment attracting more than 20,000 students from over 150 nations and we continue to invest in our future with new developments, research projects and new ideas.
We offer highly attractive practice-based courses that are independently rated as excellent, many with international recognition. Our distinguished 180-year history has meant we lead the way in many areas of research, particularly politics, media, art and design, architecture and biomedical sciences, and our position in the city of London allows us to continue to build on our close connections with leading figures and organisations in these areas as well as in the worlds of business, information technology, politics and law.
Our commitment to educating graduates for the needs of professional life attracts high quality students from within the UK and around the globe.
Internationalisation, employability and sustainability are key elements in the University of Westminster's vision for the future and we strive to ensure the very highest standards are met and maintained.
Here we hope you find everything you will need to research, write and publish your story or blog post.