University's westPHOTO 2010 competition goes international with border theme
17 June 2010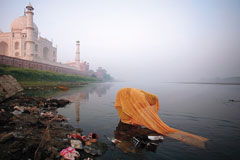 As well as Westminster photography students, the competition – now in its fourth year -  will also be open to those studying photography at the prestigious Aalto School of Art and Design in Helsinki, Finland, as well as the Lette-Verein Berlin, Germany.
Last year's competition, on the theme of 'Sustainability', attracted 700 entries from photography students in Westminster's School of Media, Arts and Design.
Vladimir Kastyl's winning image of the Taj Mahal was featured in the Times Higher Education and Insight, the London Higher magazine. The judging panel included photographers Pat Pope and Liam Bailey and sustainability expert Wayner Visser.
Organiser Kit Oakes said: "This year's competition promises to be the biggest and most successful yet. We are very pleased to be able to invite students from these international centres of photographic education.
"This collaboration will result in exhibitions in Helsinki and Berlin as well as London, providing great exposure for the shortlisted images. We're expecting up to 1,000 images to be submitted and will once again be announcing a panel of prominent judges from the world of photography."
The closing date for entries will be in October and the London exhibition will take place at the University of Westminster's Ambika P3 gallery.
---
About the University of Westminster:
The University of Westminster boasts a vibrant learning environment attracting more than 20,000 students from over 150 nations and we continue to invest in our future with new developments, research projects and new ideas.
We offer highly attractive practice-based courses that are independently rated as excellent, many with international recognition. Our distinguished 180-year history has meant we lead the way in many areas of research, particularly politics, media, art and design, architecture and biomedical sciences, and our position in the city of London allows us to continue to build on our close connections with leading figures and organisations in these areas as well as in the worlds of business, information technology, politics and law.
Our commitment to educating graduates for the needs of professional life attracts high quality students from within the UK and around the globe.
Internationalisation, employability and sustainability are key elements in the University of Westminster's vision for the future and we strive to ensure the very highest standards are met and maintained.
Here we hope you find everything you will need to research, write and publish your story or blog post.