UK media figures share ideas with Westminster students
8 December 2010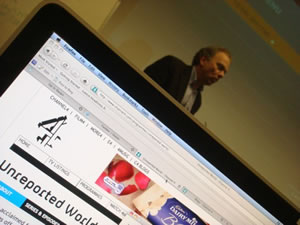 Zhenyang Li captures Unreported World Executive
Eamonn Matthews
Leading industry figures from newspaper executives to BAFTA documentary  makers were invited to share their ideas, from their own road to success to prominent issues within the news.
Produced by Dr Richard Wright, a senior lecturer within the   department, the sessions ran alongside the Masters programme module:   "Principles of Journalism".
It provided students from around the campus the opportunity to meet and talk to professionals and often live blog the talks.
MAJI students, such as, Xudong Zeng wrote about the BBC Gary Duffy's advice to students on her blog advice to young journalists on her blog. Duffy said: "Always be   flexible. Never set up your mind to  do one thing only and never touch   on another, because sometimes you have to do  settle for the second best   option and in the end you'll find all those  experiences helpful."
MAJI students Zhenyang Li and Maria Jackson also added their voice.
Zhenyang, LI   commented on his blog how BAFTA winning documentary maker Eamonn Matthews, who  produces   Channel 4's Unreported World, told them" "TV journalism has a  duty to   put cameras in places that people don't want you to."
Maria Jackson     summed up Matthews' four principles for a successful documentary:     "Good pictures, engaging characters, transgression and a creative    narrative".
MAJ student Natalie MacDonald blogged on their news site "City Wide" News about the BBC's Paul  Brennan and the future of mobile. Brennan told   students "There are three types  of people: those who let it happen;   Those who make it happen and those who want it  to happen".
The contentious issue of paywalls around internet content was captured by Josh  Landy, also an MAJ student. Josh blogged on 'Our London Eye' about the assistant editor of The Times, Tom Whitwell whose newspaper the Times  can only be accessed if people pay a fee.
Josh asked whether The Times' strategy had failed because other   publications  had not adopted their approach. He wrote:  "Whitwell   suggested   that this was not the case, because even if others followed   suit there would  always be a free news outlet to compete with and that   would always be a reality  The Times would have to contend with.
You can find out more about the University's journalism department and its  courses here: /schools/media/journalism
---
About the University of Westminster:
The University of Westminster boasts a vibrant learning environment attracting more than 20,000 students from over 150 nations and we continue to invest in our future with new developments, research projects and new ideas.
We offer highly attractive practice-based courses that are independently rated as excellent, many with international recognition. Our distinguished 180-year history has meant we lead the way in many areas of research, particularly politics, media, art and design, architecture and biomedical sciences, and our position in the city of London allows us to continue to build on our close connections with leading figures and organisations in these areas as well as in the worlds of business, information technology, politics and law.
Our commitment to educating graduates for the needs of professional life attracts high quality students from within the UK and around the globe.
Internationalisation, employability and sustainability are key elements in the University of Westminster's vision for the future and we strive to ensure the very highest standards are met and maintained.
Here we hope you find everything you will need to research, write and publish your story or blog post.