Taj Mahal shot wins third annual westPHOTO competition
20 January 2010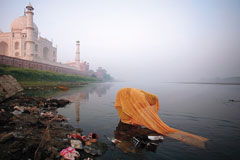 The competition is open to all current and past Westminster students. Entrants in the 2009 competition were invited to submit photographs within the chosen theme of "sustainability".
The winning photographer, Vladimir Kastyl, is a second year BA Photographic Arts student at Westminster.
"Agra is most famous for its Taj Mahal," said Vladimir. "Pictures of the Taj Mahal are very common from its front view, but I was more curious about what is around and behind this historical monument.
"Behind the Taj there is the river called Yumana. I met an Indian photographer there, who told me that the next morning there will be a kind of celebration. Indian women will come down by the river and will pray for the well-being of their husbands. The next morning I took the image."
Vladimir hails from the Czech Republic, but is based in London whilst he is completing his studies. He plans to complete a Masters degree following his undergraduate studies.
Second place in the competition went to Lorenzo Durantini, and third to Tim Sullivan.
-Ends-
Photo credit: westPHOTO/Vladimir 
---
About the University of Westminster:
The University of Westminster boasts a vibrant learning environment attracting more than 20,000 students from over 150 nations and we continue to invest in our future with new developments, research projects and new ideas.
We offer highly attractive practice-based courses that are independently rated as excellent, many with international recognition. Our distinguished 180-year history has meant we lead the way in many areas of research, particularly politics, media, art and design, architecture and biomedical sciences, and our position in the city of London allows us to continue to build on our close connections with leading figures and organisations in these areas as well as in the worlds of business, information technology, politics and law.
Our commitment to educating graduates for the needs of professional life attracts high quality students from within the UK and around the globe.
Internationalisation, employability and sustainability are key elements in the University of Westminster's vision for the future and we strive to ensure the very highest standards are met and maintained.
Here we hope you find everything you will need to research, write and publish your story or blog post.